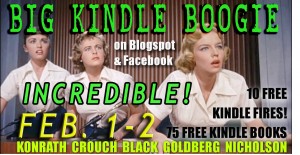 Authors J.A. Konrath, Blake Crouch, Lee Goldberg, J. Carson Black, and Scott Nicholson are running up a lovely promotion for their combined 5-book "Ultimate Thriller Box Set" by giving away 10 Kindle Fires and other prizes. The promotion is called Big Kindle Boogie, and you can find out more at http://bigkindleboogie.blogspot.com/.
Digging around online, all the buzz revolves around the FREE KINDLE FIRES and the PRIZES, but I can't seem to find out anything about the contents of this "Ultimate Thriller Box Set." Can't even find the titles of the stories involved. Are they a secret? It certainly is suspenseful.
What really is thrilling is finally seeing someone promote the Kindle Fire over the i-pad. But I wonder if there is an actual "box" involved in this "box set"? I"m guessing that these are e-books, since they're giving away Kindle Fires and all, so I wouldn't get my hopes up for a physical box.
Here's the official press release:
WIN A KINDLE FIRE IN THE BIG KINDLE BOOGIE

10 Free Kindle Fires, 75 free ebooks, $300 in gift cards, a $500 library donation! Entries for 10 free Kindle Fires are already underway at http://bigkindleboogie.blogspot.com and gift cards are bing randomly awarded on Twitter for those who tweet about the Big Kindle Boogie.

On Feb. 1-2, bestselling thriller authors J.A. Konrath, Blake Crouch, J. Carson Black, Lee Goldberg, and Scott Nicholson are making 75 Kindle books free on Amazon. They are also making a $500 donation to the local library of one Kindle Fire winner. They are also releasing the five-book Ultimate Thriller Box Set for free during the event. Contest is international, no purchase necessary. You can also join the Facebook party at http://www.facebook.com/BigKindleBoogie.

Three easy ways to enter:

Everything free, everything fun. Good luck!
So spread the word and best of luck!
Yours Darkly, Conrad Zero