Shut off your damn computer! Tomorrow, Saturday 24 Mar 2007 is Shutdown Day!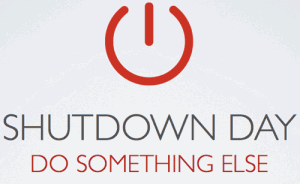 You can read more about shutdown day at shutdownday.org.
I would take it a step further, and say take a break from technology altogether. Skip the Cellphone and the TV/DVD/Cable/Sattelite, and Things-That-Plug-Into-The-Wall. If the weather is anything like today, it's time to be thinking spring thoughts!
Read a book, or write one.
Take a drive up to Frisky's in Coon Rapids, I think they still deliver food out to your car. If not, Wagner's in Brooklyn Park off of Hwy 81 and Broadway will.
Go see a live band.
Clean your garage.
Go on a bike ride around Lake Calhoun.
And if you have a dirty mind like me, just a look at the shutdown logo and see what other low-tech activities come to mind….
Yours Darkly, Conrad Zero