From Audio Podcast to Video Bliss (Almost)
For a few years, I recorded and edited the podcast for the Minnesota Speculative Fiction Writers' Group. I would record our monthly writers' discussions on a Zoom H4n, then dump the sound file into Sonar, add a voiceover intro/outro (some intros were provided by fellow MNSpec authoress, Abra Staffin-Wiebe) then export to wav, import to Adobe Audition, trim the ends, convert to mp3, tag and upload.
Check out the results for yourself here: Listing of all the MNSpec Writers Group Podcasts.
Now even someone who sucks at math could tell you this process was high-maintenance. It took two to three hours of post-production for each hour of finished audio. For all of the TENS of fans who listened to the podcast.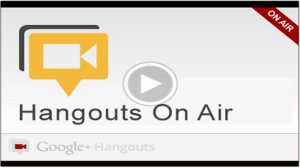 Then I discovered Google's "Hangouts On Air" (or #HOA ) HOA is a feature that allows you to stream a Google Hangout video chat LIVE on google plus, and auto-post to youtube.com when the chat is completed. So instead of hours of audio post-production, I figured I could switch to HOA, stream the meetup in a video hangout, which not only added the freakin' video, but also gave our group the ability to remote-in to the writers' group meetup, plus the presto-uploaded youtube video with all it's sharing/commenting/analytic-tracking glory, and all with NO post-production.
Sheer. Genius.  Or so I thought.
I've used HOA many times now, to stream/broadcast the Minnesota Speculative Fiction Writers' Group and some writer friends' live readings at Dreamhaven. But after recording the 2013 Minnesota Speculative Fiction Writers' Group Showcase last weekend, I realized that HOA just isn't as low-maintenance and high-payoff as I'd hoped.
5 Major Frustrations of Google Hangouts On Air:
Why on God's Green Earth they choose to flip the video on the vertial axis is beyond me. While youtube has an online video editor with some rudimentary features, flipping the video back to normal is not one of them. If there are signs, book covers, or other text/graphics you want to show up correctly, you'll have to download and import into a local video editor like windows movie maker, flip, export, upload, and delete the original. Might just as well record offline and get WAY better quality with less hassle.
Your HOA auto-uploads are auto-branded with Google's logo. Not exactly sure why Google feels the need to watermark your video during HOA, and there is no option to turn it off. And when you flip the video (see #1) then the video is back to normal but now the watermark is backwards.
The resolution sucks.  To be fair, the resolution has to be dumbed down so it can be streamed live. This seems a fair price to pay for streaming quality. But my google chats don't look or sound that bad. Yes, I have it set to HD. Yes, I have a high resolution webcam. Yes, I have bandwidth. I have a good quality internet connection… oh wait, actually I don't. Which is another problem, because HOA…
Needs a stable internet connection.  Even if you can get the bandwidth, good luck finding an access point that stays alive for 2 hours with no hiccups. The bad news is that when the connection does break and you have to restart the broadcast, you have to name it (again, thanks) and name it differently than the first broadcast, thanks. And you need to type quickly, because you are missing content while you're typing all the details in… and then when you do press broadcast, it has a 15 second delay. So a millisecond glitch in the wi-fi connection is going to set you back at least thirty seconds of content. The good news is that you can merge the clips together with youtube's online video editor, the bad news is that you'll end up with a completely new file with a new link. Good luck with that, when people start sharing and commenting on the crappy version before you even get to pull it down.
Does Not Run On Android – Let me get this straight. Hangouts work on my phone. And I can take vids on my phone and upload them to youtube. But HOA does not work on android phones? Fail. Plan to bring a laptop, webcam, and wi-fi to make HOA work. Probably want to bring the laptop power cord while you're at it.
If you need the live interaction of Hangouts, and truly don't care about the video quality and mirrored effect, then HOA is a great multi-tasker. Wanna share your bros doing parkour fails realtime AND auto-publish that shit with no edits? HOA all the way, baby.  Unfortunately, the coolness of "But this was a multi-person videochat streamed LIVE!!!" doesn't outweigh the amateur results.
If you want any semblance of quality, HOA + youtube video editor isn't there yet.You will have to piece together and transition between video pieces, and you'll  need to flip the video, (which you can't do on youtube) so you're going to end up downloading and editing on a locally installed video edit program like Windows Movie Maker anyway. Deleting all the crap, uploading the corrections, and doing damage control on the links.  All for meh video quality, garbly audio and choppy edits?
Not sheer. Not genius. So I rethought.
The Future of MNSpec Event Recording
So I'm changing my tactic. I think that even for average events, a marginal amount of video post-processing gives a huge increase in the quality. For the same work as the podcast production, I can have a really nice video production, with all the lovely perks of youtube distribution.
So I've ordered Sony's consumer-level video editing software, and maybe next year I'll get a dedicated point-and-shoot videocam.
Hangouts On Air gets constant improvement, and new features. Youtube's video editor is already pretty amazing for an online app, and getting better. Google clearly wants HOA to succeed. Someday, it will be a better solution. Till then, I'm separating the Hangout from the video edit/upload, and going old-school with local post-production.
Yours Darkly, Conrad Zero