Automatic for the Tweeple
Welcome to 2010. Strangely, the things we've expected to be available like flying cars and holodecks… aren't. Instead, we have the ability to communicate out to the entire internet-connected world and tell them what we had for dinner using Twitter.com. Yay.
For those who still don't know the difference between Twitter and a tweet, read this post.
Believe it or not, Twitter does have uses beyond the obvious time-suck. For anyone wanting to cast their social network a little wider, Twitter is as simple as it gets. If nothing else, it offers more links back to your content. The act of sending tweets isn't difficult, but who wants to deal with following/unfollowing people and cut-n-pasting blog post links into a tweet? Sounds like more upkeep than it's worth for just another link back to your blog. If there was only a way to automate the process…
Well you're in luck, because I have some tips that turn Twitter into your slave, and make it automatically administrate and update itself with content for you! Real content too, not the B.S. jokes and quotes the New Media Spambags are pumping out.
If you don't do Twitter because you have no idea what to tweet about, take advantage of these simple tips to get some auto-tweeting working for you. If you are already a tweetmaster, these tips are an easy way to add some content and housekeeping to your existing regimen.
If you don't have one already, set up an account at Twitter.com then follow these simple tips to make Twitter work for you:
1 – Automate Twitter Using SocialOomph
SocialOomph.com (formerly known at TweetLater) has a terrible name, but does some wonderful auto-administration of your Twitter account. It's totally worth the [FREE] that they charge.
Set up an account at SocialOomph and add your Twitter account credentials. Yes, that means sharing your Twitter account username and password . Don't worry, they're good for it.
Once your Twitter account is added, click 'edit' and check the following options:
Auto-follow people who follow you.
Auto-unfollow people who unfollow you.
Automatically e-mail you a list of Twitter replies. You'll get a condensed e-mail of Twitter replies people sent to you, so you never have to check on Twitter to see if you're missing anything.
Automatically send a welcome message to new followers. Make sure to type in a short message which will be sent to everyone who follows you. Here's mine:
Thanks for the follow! You can check out more of my dark-fiction-author-nonsense at conradzero.com

Tweet you later!
-Conrad Zero
Note: You can also use SocialOomph to upload a bunch of pre-written tweets and schedule them to post at certain dates/times, but that means you have to write tweets and upload them. I figured I would point this out because it's a handy consolidation of work, but it isn't exactly automatic.
2 – Automate your Blog Posts to Twitter using Twitterfeed
Twitterfeed is a service which takes the rss feed from your blog and automatically generates tweets with a link to your blog posts and posts them on Twitter for you!
To set up Twitterfeed, you will need the RSS feed address of your blog. Mine is http://conradzero.com/feed which is the default for self-hosted WordPress blogs (just replace my website name with your own.) If you have a hosted site like Blogger or LiveJournal, look on your site for a Subscribe button or a graphic which looks like this: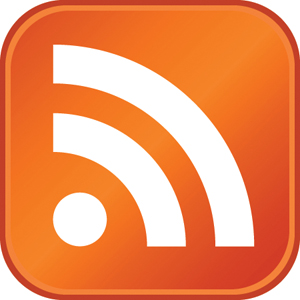 Right click on the graphic on your site, and copy the address there. That should be your RSS feed. Paste it into Twitterfeed. Once you get your RSS feed entered and validated, then add your Twitter account information and… Bam! All UR blogposts are now belong to Twitter!
3 – Automate Youtube to Twitter
Login or create an account at Youtube.com. Under Account Settings look for Activity Sharing or AutoSharing. Here, you can configure Youtube to auto-post your video rankings, favorites and comments out to Twitter, Facebook and other social media sites.
Bam! Free content automatically generated for Twitter based on nothing more than trolling around Youtube! Hells, you were doing that already!
4 – Auto-tweet Myspace updates
Despite media to the contrary, Myspace is not dead. Furthermore, Myspace.com can also be automated to bounce your status updates out to Twitter.
See this link for more details: http://www.myspace.com/sync
5 – Automate Facebook updates to Twitter
I heard that if Facebook was a country, it would be the 6th largest country in the world. It would also look like the Eastern Bloc, and smell like Seattle.   I also hear it's the only way you can get grandma online to look at pix of the grandkids.
Like tips #3 and #4 above, you can also have Facebook auto-post your updates out to Twitter (and back the other way…) using this app:   http://apps.facebook.com/twitter/ [Note: you will need to login with a Facebook account to access this page.]
6- Showcase your current Twitter posts on your website.
Adding a sidebar to your website that showcases your latest Twitter posts is an easy way to put fresh content on your website(s). Best of all it's set-and-forget. Pick from the options below depending on how your website is hosted:
WordPress – There are many WordPress plug-ins which will show your latest tweets in a sidebar widget. I use the "Twitter for WordPress" plugin by Ricardo González, and you can see the results on my homepage at conradzero.com (Scroll down the right-hand side, under the header "Twittering")
Blogger – Here's a link to a Twitter widget you can insert into your Blogger blog: http://twitter.com/badges/blogger
Others (Javascript) – If you use LiveJournal or other pages which run old-school HTML, This site has a simple Javascript that can be added to your page: http://www.cthreepo.com/blogthis/index.html
Others (PHP) – If you aren't afraid of a little PHP, then with some cut-and-pasting you can add this prebuilt code to your website: http://workbench.cadenhead.org/twitter-rss-to-html/
WTF? – If none of these options work for you, there are plenty of other coders and plugin-ers out there creating software to show your twitter posts as stocktickers, sidebars, banner ads, etc… My suggestion is to find someone who is doing what you want to do, and ask them how they did it. Leave a comment here if you find something useful!
Once you're finished, every new Twitter post will be displayed on your website pages.
Living with Auto-Twitter in 2010 and Beyond
Once you've strapped Twitter into this auto-magical configuration, what next? Simple. Go back to your business as usual! Update your blog, Facebook, Myspace, etc. Rate and comment on videos at Youtube. If you followed my tips above, all these actions will generate content for you automatically on Twitter.com, and your website sidebar will be updated with your latest tweets!
Add a blog post… Bam! There's two extra links to your blog post with no extra effort!
Someone adds you as a friend… Pow! Your account auto-adds them back, AND sends them a thank you!
Someone unfollows you…   Zap! Your account auto-unfollows the fool! So Naygh!
Keep in mind that your twitter account can't shouldn't just run on automated updates every day. At the very least, you need to respond and reply to others. If all you do is post automated content, you're just another New Media Spambag, and you'll get dropped.
OK so it ain't a flying car, but unless you're going to build one, you'll just have to settle for these Twitter-tips. For those of you worried this is all a bit too Big Brother, keep in mind this is 2010, not 1984. Feel free to share these tips with others, and link back to this post.
Yours Darkly, Conrad Zero