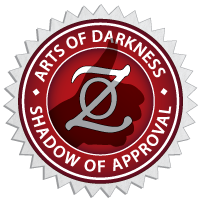 Since 2003 I've been writing blog-reviews here about dark and beautiful things. I've used the category Ubercool to reference arts, artists, events and things that I think are glorious. And I never once worried that anyone would read them.
But now, my site traffic and ranking have increased to astonishing levels. My inbox is filled with requests for reviews and offers for paid advertising. You read that right. Paid. Advertising.
"You should have an award. You know, like a seal of approval!"
Ten years ago, I felt like the weird kid sitting by himself and reading Lovecraft while listening to Marilyn Manson.  Now I feel like some kind of Dark Fiction Authority. The Goth Guru? The Hipster of Darkness?
But an award would be pretty cool. And easy. Or so I thought. It had to be generic enough to encompass all kinds of arts, artists and events…
…and I wanted the word "dark" in there someplace…
…and it had to be clear that it was something positive…
…and I didn't want it to sound hokey…
…or make me sound like a minion of Satan herself. (A common misconception, btw. We just hung out in the same circles in college…)
Anyway, I'm proud to finally present my "Shadow of Approval" for arts and artistry that embrace the dark side. Mega-thanks to my graphic-savvy friend,  J. Stuart Johnson  for taking my conceptual-hack-job and turning it into an amazingly cool graphic. In fact, he should be the first artist I give the award to. If you need graphics or website work done, you should hire him.
What Are "Arts of Darkness"?
Dark Fiction and Authors Thereof
Don't know where the phrase  Dark Fiction got started,  but it immediately made sense to me. Dark Fiction expands on the Horror genre by calling attention to this simple fact:
There's more to Horror than shock and eww.
Don't get me wrong, I love Horror. And Horror is a subset of Dark Fiction on this website. But I have a special appreciation for authors like Poe and Lovecraft who can write stories that are edgy, disturbing and even terrifying without resorting to the base, gross, vile and disgusting. "Dark" sums it up nicely.
I'll save the  What Is Dark Fiction?  blog post for another day, but obviously "Arts of Darkness" can be used for much more than just dark fiction books.
Darkness In The Arts
The focus on books and authors here at conradzero.com should be obvious, but I love all kinds of gothy, eerie and edgy things: Websites like darktwincities.com. Musicians like Venus DeMars. Video Games. Theater. Restaurants. Mixed Drinks. Steampunk fashion shows.
The Minneapolis Zombie Pub Crawl is a great example. Can you imagine thousands of people dressed as zombies, drinking beer, listening to dubstep and spraying fake blood on each other? To file it under Horror is a shame, because a) it really isn't, and b) that label could scare away an audience who might otherwise really enjoy it. But it definitely is Dark.
Goth or Gothic comes close to capturing the adjective I'm after. Hells, every product and article in Gothic Beauty Magazine would qualify for a review on this website. But I still prefer the term Dark. It feels more broad. More diverse. And it has less of a stereotype than Goth.
What Is The "Shadow of Approval" And How Does It Work?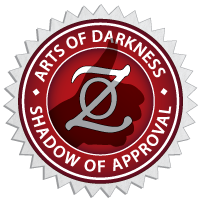 The Shadow of Approval is the picture version of me saying this:
"I'm Conrad Zero, the Hipster of Darkness, and I approve this book/author/art/artist/event/whatever."
As I review stuff here on conradzero.com, items which pass my stringent standards of dark integrity and goth-tastic quality will be awarded the Shadow of Approval. The graphic will be displayed in the blog post review, and I'll  notify the artist of their bragging rights.
Artists who receive the Shadow of Approval can download/post the graphic on their own website, share it on social media, get a tattoo of it on their chest… whatever.  I only ask that if the graphic is used online, please link it back to this blog post so people can read this explanation of what it is.
How Do I Get One?
Just follow these four steps, which are anything but simple:
Make Glorious Art.
Darkly.
Make It Findable. If your marketing plan is for people to hunt you down and make you famous, you're better off buying a lottery ticket. If someone searches for you or your book/band/website/whatever, then they should find it easily.
Promote It. I prefer reviewing things made by people who are passionate enough about their work to promote it.
That doesn't mean I only review stuff from Minnesota. I've reviewed films from Ireland, books from Egypt, and video games from  Australia. And where the art comes from has no bearing on the review itself, I'm just more likely to find and review things that are closer to home.
For more about my preferences and how to get reviewed here, check out the  Official Review Policy for conradzero.com
If you're an artist or know of something dark, cool, and new to review, clue me in – zero at conradzero dotcom.
If you're a fan, check back and see what arts/artists have received the Shadow of Approval.  They will still be found under the ubercool category. Or, join the Cult of Zero  to receive the newsletter including all the dark and beautiful things I discover and cover here at conradzero.com.
Yours Darkly, Conrad Zero