The Gap Between "What The Author Meant" And "What The Audience Got"
Recently, I attended/recorded a live reading by Minnesota author William Alexander at  Dreamhaven Books. William read/acted out a section of his latest book, Ghoulish Song. William has professional theater training and experience, and if there was any doubt about this, it was resolved by his live performance, which was glorious.
The section he read describes when the protagonist, Ailie, gets separated from her own shadow and has a discussion with it. The shadow spoke in hushed tones that gave me goosebumps as William read them aloud.
I purchased a copy of Ghoulish Song  from William and took it home.  While reading the story, I came across the part that William had performed. As I read it to myself, I realized that William's reading was quite different from my own. His tone was dark and disturbing, while my own interpretation was subtle, almost bland. I was interpreting it as a kids book, and not as a scary book.
There was a definite difference between what William was thinking when he wrote it, and what I got from it when I read it. I'm not sure if there's already a name for this difference, so I'll simply call it The Gap.
Mind The Gap
There will always be a difference between the author's intention while writing the book and the actual picture created in the readers' minds while reading the book. This is bigger than just the audience and authors of written works. It's an inherent side effect of the way the world works, and how we communicate.  
To illustrate this difference, imagine that you and I are looking at the same blue painting. Now imagine that you were born with a vision impairment that left you with a damaged perception of the color blue. Then there would be a difference between what you are seeing and what I am seeing, even when we look at the same blue painting at the same time.  While I see the real blue, you see a kind of dark teal color. But wait! What if I'm the one who is seeing it incorrectly? How do we know? Whose perception is correct?
What if we're both color impaired in different ways, and the rest of the world sees the real, true color blue?
What if no one actually sees the real color blue at all?
Some people have no time for this nonsense.  Some people would say that despite this gap in our perceptions, we can all agree to use the term "blue" to describe the painting we're both looking at. Some people would say that even if we don't actually see the same thing, we can all label it "blue" so we can all talk about the thing, even if we don't see it the same way.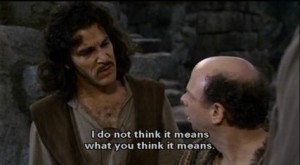 Then again, some people are boring and easily placated.
But not Philosophers! Oh sure, we could just agree to call the painting "blue" and go drink some scotch, and talk about other kinds of gaps, but that doesn't change the fact that the gap actually exists. Besides,  Philosophers have to justify the thousands of dollars in student loans and the entire semester they spent desperately trying to comprehend Immanuel Kant's Groundwork of the Metaphysics of Morals.
The language gap is a fundamental issue with human communications, and an entire language branch of Philosophical studies  still manages to churn out reams of papers analyzing the subject from every conceivable angle.
So what chance do you or I have?
Maybe we can't solve the problem, but there are three things you as an author can do about author/audience gaps in your writing. You can avoid the gap, you can bridge the gap, and in some cases, I'll tell you how you can even use the gap to your advantage.
Avoiding The Gap
Ever meet someone that you only knew through radio or over the phone, and you built a picture of them in your head, but then you see them for the first time and they look nothing like what you expected? Ever get halfway through a book and then have someone tell you the character's hair color, height,  or some other aspect was different than you had imagined?
That's the Gap. When you first 'met' the character, and the author gave you little/no visual reference, your brain made an assumption. And the longer you lived with it, the more 'fixed' it became, even though it had no basis. Once that assumption runs into reality, that's when the gap manifests. At best, it takes you out of the story. At worst, book meets wall.
As an author, you can avoid this by  not holding off on the details.  Bringing up details (especially physical details) early in the story prevents your audience from establishing their own incorrect reference in their minds.
This gap can also be avoided by not adding details later in the story which would reveal such a gap. Be aware that if you're describing hair color, height or other physical descriptions late in the story, it may not match what the audience has in mind. If it's critical to the story, then establish it early. If it's not critical, then leave it out. Either way, this kind of jarring, "That's totally different than what I thought" can sometimes be avoided.
Because you, as the author, are aware of all the facts in your story,  you're effectively "blind" to these gaps.  Having your work edited and proofread by fresh eyes is critical for finding gaps like this. Reviews by critique groups, beta readers and editors who have not read the story before will be your best line of defense against artist/author gaps in your work.
Bridging The Gap
"Curse the gap anyway? How can I get the audience to see the picture in my head?"
Sometimes you can't. Not directly anyways, but there is a sneaky trick authors can use to bridge the gap to the reader.
Let's say you want to write something absolutely horrific. Something so terrible that it would make the reader wet their pants with fear!  Good luck with that. I see it tried all the time. And it always fails. (At least, I've never wet my pants with fear from reading a book.) But there is someone you can control, someone you have complete control over.
Your OTHER characters.
You can use other characters in your story to bridge the gap for you.  Simply have another character in the story experience the horrific event and wet their pants with fear. Or have them die of fright. The reader now understands that the character saw something scary enough to warranty pants-peeing and/or death, and they don't have to make that value judgement for themselves. Gap, bridged.
Another example: if you want your readers to picture your protagonist as very very beautiful, then don't just tell them that the protagonist is beautiful. (And please don't have the character gawking at their own 'beautiful' reflection. That makes people believe that your character is both ugly and stupid.)
Instead, show the effects that character's beauty has on the world. Show people going out of their way to talk with them, or trying to catch their attention, or fighting over who will win their affections. All these people falling over themselves for the protagonist implies to the reader that the protagonist must be beautiful. Again, you use the other characters in your story to bridge the gap to the reader for you.
In effect, this is the well-known trick called "Show, Don't Tell" and this is one reason why it's still good advice.
How Authors Can Use The Gap To Their Advantage
The gap is not always a bad thing. In fact, once you understand what it is, you can use it as a tool in your writing arsenal.
At my writers critique group, one author wrote in a fight scene, "…the sword had fallen three feet away, just out of reach." One of the critiquers took issue with this, stating that three feet is actually not that far. An argument ensued in which someone nearly acted out a three-foot lunge for an imaginary sword on the conference room floor.
I resolved the issue (and possibly prevented a brawl) by pointing out that the author should keep the subjective phrase "…the sword had fallen just out of reach." and leave off the objective measurement of "three feet away." How does this resolve the problem? Each person reading the story is forced to fill in the distance for themselves. My "just out of reach" and your "just out of reach" could be quite different, but we can both read that same phrase (without the measurement) we each fill in the gap with something that makes sense to us.
In this case, the gap is used to the author's advantage. It adds realism to the story, unlike inserting a measurement that wouldn't work for everyone because it didn't match some readers' assumptions or beliefs. It forces the reader to participate in the construction of the story world in their own head. It doesn't seem intuitive that making your story world Less real by removing objective data would make it more Real to your audience, but that's exactly what it does.
Summarizing The Gap
The Gap isn't just an issue between artists and audiences. It's not just a problem with the way we each perceive reality in our own way.  And it isn't just a bland clothing store.
The Gap is not an altogether bad thing. Once you understand it, you have some options. You can avoid it. You can use proxy characters to bridge it. Or you can even use it to make your writing more real to your audience by involving them in the image-creation process.
I hope you found this information useful. If so, please help this blog post bridge the gap to the rest of the world by sharing it on your favorite social media.
Yours Darkly, Conrad Zero