Last night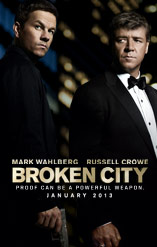 I attended a special, advance screening of Broken City starring (Marky) Mark Wahlberg, Russell Crowe and Catherine Zeta-Jones.
Allen Hughes directs this modern day political-crime-drama which takes place in New York City.
Lots of good acting in this film. Mark Wahlberg does a perfectly imperfect, former-detective-now-private-investigator. Russell Crowe is a great charismatic, pragmatically-evil politician. And Catherine Zeta-Jones (whose role was far too small, IMHO) walked around looking magazine-cover beautiful. I think she's part cat, and part ice-queen.
The soundtrack by Atticus Ross was very good. Atticus Ross worked with Trent Reznor on the Girl With The Dragon Tattoo soundtrack, which I also really enjoyed. Atticus' solo scoring work on Broken City shows that he has a similar aesthetic to Trent Reznor, the same ideas about layering sounds to create textures, especially dissonant ones to enhance tension. Sometimes the soundtrack was too loud in the mix, but that's not Atticus' fault.
The writing itself is pretty good.  Everything that happens makes sense. Realistic motivations. No leaps of faith. You won't even be required to suspend your disbelief. The story seems very real – maybe it was a documentary?? It could very easily have happened exactly as told. And that's the only thing I didn't like about it. Real life is boring. And so are movie plots when everything goes just as you think it will. There were no real surprises in Broken City, no major twists.
The only plot twists are the differences between the movie trailer and the movie itself. The movie trailer leads you to believe several things that DO NOT HAPPEN in the movie. In fact, you're better off not watching the trailer, so you don't come to the film with preconceived notions about the plot.
You might guess the ending of the movie after the first five minutes. The only reason to see the middle of the film would be to find out how they get there from here. Ice-queen-cat lovers will be disappointed at Catherine Zeta-Jones minute role. But the acting/writing/score are all good, which makes Broken City a solid film experience, especially for fans of political dramas crossed with The Rockford Files.