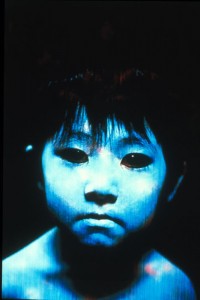 OK, the little naked kid dipped in flour and wearing mascara and dark contact lenses (typically played back with dropped frames) was pretty spooky…back when I first saw it in The Ring. But then it was done. And like any fad, that one got beat to death. I don't think there is a single video from Asia Tartan Extreme at Hollywood Video that Doesn't have a pic of the spooky kid on the cover. I've seen it so much now, that if I woke up in the middle of the night and saw the spooky kid hanging from my bedroom wall, I would tell him to piss off, roll over, and go back to sleep.
Directors like Sam Raimi still think it's scary, and they base entire movies around this No-Trick-Pony. They have learned about the Sting. They know that there is an instinct that makes you react to sudden visual or audio cues (Stings). This will always work, but it is NOT HORROR. It is a tool used in Horror Movies, but by itself it is no more Horror than a cup of flour is a pancake.
I was trying to watch the movie The Forgotten which relied on stings throughout the movie to keep the audience from falling asleep.
No matter how many times I pretend to punch you in the face, and stop an inch from your eyes, you will blink. You can't not blink. It's instinctual. Directors think this is Horror.
But it is not.
Because it ain't scary no more. That's right. Not scary. Like Crazins. Not Scary. Like Aspartame. Not Horror.
The guilty directors will probably never realize this, since they don't read my blog, and since they still manage to make money off the most unhorrifying horror movies ever made. The Boogyman. The Grudge. I could go on. Annoying perhaps, like being on hold with Belkin Tech Support, but not Horror.
Using stings as a crutch to make your unscary Flour-Boy seem scary is not Horror. It is Startling. It is Jarring. It is going to cause even normal people to launch into an epileptic seizure. We need to come up with a different genre for this dogshit. When I go to the Horror section to rent a Horror movie, I want to see something Horrific. Startling alone is not Horror, and does not count. Put it in the Jumpy section.
I'm waiting for someone to just run a black slate for 90 min, and randomly drop in a couple still pix with a giant audio hit. Watch the crowd jump! Best part is the pictures can be of anything at all, and the crowd will still jump!
"Oh my God, an Ostrich!"
"AAA! Crazins!"
"Holy Shit! A little boy dipped in flour! Did you see that?"
"Oh! I think I'm having a seizure!"