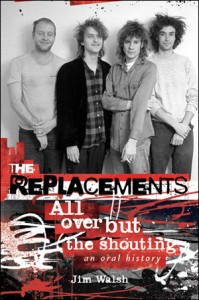 For all of you Replacements fans out there (sorry, but I refuse to call them 'Mats'. They aren't Mats, so stop calling them that. Call them 'Mints' or something.) Jim Walsh, writer for City Pages and Reveille Magazine, musician, and all-around local troublemaker, has released a book about the Replacements called All Over But The Shouting. Apparently, it's an oral history detailing the rise and rise of the Replacements.
The book release party at First Avenue should be quite the shindig, including a slew of bands covering Replacements songs. Revolver Modele will be there. You should too:
Wed Nov 28th
First Avenue
7PM
18+
Tickets are $5.50 plus whatever "Fees" TicketBastard charges. I recommend stopping by First Ave and picking tickets up in advance.
I have a couple 'essential' Replacements CDs, and I recorded "The Replacements A to Z" when it aired on KQ92 many years ago. I don't share the popular opinion that they were the Greatest Minnesota Band That Never Was (although I do allude to that in my novel, The Demonslayer's Handbook) Then again, I never saw the Replacements live, and it sounds like they got more reputation from their live antics than their music. So it should be interesting to experience them second and third hand from people who lived through the chaos.
Yours Darkly, Conrad Zero