Gothy places and events in the Twin Cities are difficult to find outside of Ground Zero. Not that the Heartland doesn't have a dark side, far from it. It's just that the cool events like the Zombie Pub Crawl and the Goth Prom get lost in the deluge of happy hours, DJs, and karaoke nights.
I try to help when I can, but even I miss out on things; for example, I didn't hear about the Zombie Fashion Show until after it was over. And I'm sure there's plenty of people who don't want to wade through my slanderous movie reviews and delirious raving about DRM just to pick out the occasional gothy tidbit.
Therefore, the need for a website like darktwincities.com "Your source for all things Dark and Spooky in MSP". They focus mostly on bands and clubs, but they also have music reviews and plenty of other goth-goings-on in the forums; fashion, news and whatever else your dark heart desires.
If you know of a Dark and Spooky event going on in the Twin Cities, make sure to stop over at darktwincites.com and post it in the forums, or e-mail their staff using the link on the homepage, they will even get your event flier posted on the frontpage.
Like the Jagged Spiral concert next Thursday, for example: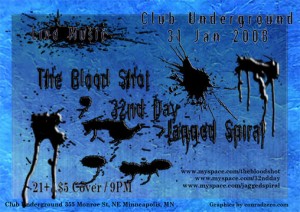 Yours Darkly, Conrad Zero