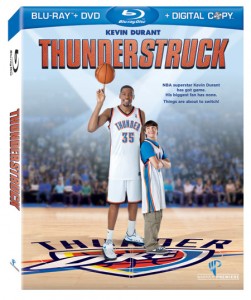 A cross between Freaky Friday and the NBA, Thunderstruck is being released on 4 Dec 2012, and  I'm giving away a copy of the blu-ray/DVD/digital copy combo pack for FREE!
NBA superstar  Kevin Durant  plays himself in this action-packed family film about a basketball star who switches talent with a klutzy 16-year-old fan. When Brian (Taylor Gray) magically switches basketball skills with his hero, Kevin Durant, he becomes the star of his high school team… while Kevin Durant suddenly can\"™t make a shot to save his life! But with the playoffs approaching, Brian learns that being a true winner means working hard at your own game, and he tries to make things right in time to prevent a catastrophic end to his hero\"™s season.
Warner Brothers has kindly provided me a copy of Thunderstruck to give away to one lucky fan of dark fiction at conradzero.com!  If you want a chance to win, please enter your name and email address in the form below before 13 Dec 2012.
Current members of the Cult Of Zero mailing list are automatically enrolled in the drawing. On 13 Dec 2012, I'll choose someone from the list at random, and notify them via email. They will have 48 hours to respond with their mailing address, which must be  accessible  by FedEx or UPS, so NO PO Boxes please! If I don't get a response within 48 hours, I'll pick another winner. Good luck!
And while you're waiting, check out the Thunderstruck app below. View the Thunderific-tips for kids, and try the Free-Throw Challenge Game. See if you can beat my first-try score of 14.
Yours Darkly, Conrad Zero