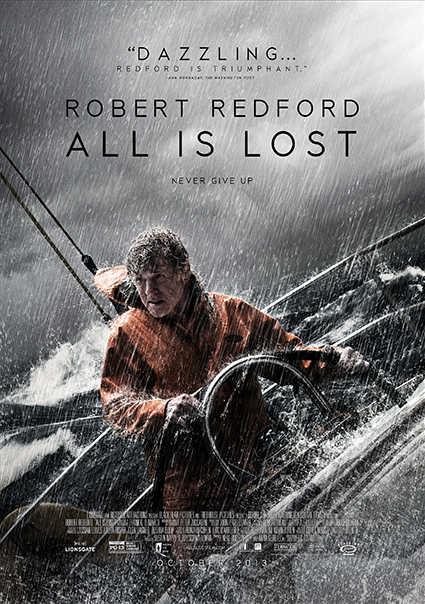 This site is turning into a giveaway center! But as long as fine folks like All Is Lost are going to give me swag like movie tickets to give away for free, I'm not going to complain!
On Sunday, October 27th, I'll be giving away 2 free tickets to the movie All Is Lost starring Robert Redford.
Academy Award ® winner Robert Redford stars in All Is Lost, an open-water thriller about one man"™s battle for survival against the elements after his sailboat is destroyed at sea. But with the sun unrelenting, sharks circling and his meager supplies dwindling, the ever-resourceful sailor soon finds himself staring his mortality in the face.

Written and directed by Academy Award nominee J.C. Chandor (Margin Call) with a musical score by Alex Ebert (Edward Sharpe and the Magnetic Zeros), All Is Lost is a gripping, visceral and powerfully moving tribute to ingenuity and resilience.
Cool! How Do I Win Free Tickets to All Is Lost?
Easy. On Sunday, Oct 27th, I'll select one lucky member from the Cult of Zero as the winner! If you're already a member, you're already entered in the drawing! If you aren't a member, well… why the hell not? I think I've given away a dozen cool prizes over the past year and I've yet to send out a single newsletter, so your odds of winning something cool like DVDs, Blu-Rays and movie tickets is better than your chance of actually getting dark fiction news from me anyway!
Sign up to be included in the drawing right here:
What's The Catch?
No catch. But there is some fine print.
On the due date, I'll contact the winner by email and they have 24 hours to respond with their mailing address. Prizes are deliverable to US and Canada only. Prizes will be sent by Fed Ex or USPS, so NO PO Boxes please.
If the winner does not respond within 24 hours, or cannot provide a mailing address meeting the requirements above, I'll select another winner.
Each household is only eligible to win 2 Free Movie Tickets via blog reviews and giveaways. Only one entrant per mailing address per giveaway. If you have won the same prize on another blog, you will not be eligible to win it again. Winner is subject to eligibility verification.
All Is Lost Interactive Movie Poster
It's almost 2014. We don't have any flying cars yet, but we do have cool blog apps like the one below! Run your cursor over the image for cool, interactive, awesomeness, and good luck on those free tickets!
Yours Darkly, Conrad Zero