Neil Gaiman has been a writing inspiration to me for years. But he isn't just a good writer. He's smart. He's humble. He's well-spoken.  He is grateful and respectful to his audience.
And he wears black.
He's become more than just a writing inspiration for me. He's someone to look up to in many different ways.  I gave Neil Gaiman the Ubercool Seal Of Approval back in 2007, so you can imagine my excitement when…
I met Neil Gaiman for the first time today.
As a resident of Minnesota, there really isn't much excuse for taking so long to cross this off my list. Neil Gaiman lived here for a while. He might still live here. At least I think he has a house here. Whatever the case, he visits Minnesota often. So if you live in Minnesota and haven't seen Neil Gaiman, then you simply aren't trying.
Well, today I tried and succeeded. Neil Gaiman stopped here as part of his North American Book Signing Tour for his latest bestseller,  The Ocean at the End of the Lane.  
I waited for literally hours with two fangirl friends, Jess and Katy. We listened to Neil talk about how The Ocean at the End of the Lane came about, and he read a few pages of that, as well as an upcoming adventure story that disproves the commonly held belief that Dads can't have adventures. He answered some questions, and was completely squeeable.
Then we waited for more hours, making our way through the line until we each had our 30 seconds of 'Neil Gaiman Time.'
Warning – 'Neil Gaiman Time' is  extremely relative.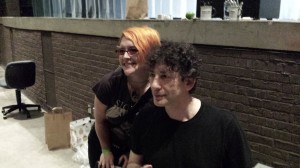 Jess was first, and put it this way: "How do I express 20 years of admiration in 30 seconds without going to jail?" To which Neil Gaiman replied, "Would you like a hug?"
Like I said, well-spoken.
Katy went next, and time began to blur (almost as badly as my camera pix) before I even got my turn.
So during 30-seconds-that-seemed-more-like-3-seconds, while Neil Gaiman signed a copy of the book for me, I handed him one of my business cards with a story title written on the back. And I'm pretty sure this is what I said:
"There is a story you should read, it's similar to your 'Dad-Adventure' story. It's called Pinky the Invisible Flying Pony vs the Giant, Carnivorous, Poisonous, Exploding Spider-Leeches. I'm sure you'll like it. And not just because I wrote it."
For the record, I did not go down to the signing with the intention of turning it into an elevator marketing pitch. It was all because of his Dad-Adventure story reading. That story was so silly and abstract, it made me think he might actually like my story, because it's silly and abstract too.
And while the fangirls were swooning, they completely forgot to take pix of me talking with Neil Gaiman. Ah, well.
Sadly, Neil said he won't likely be doing another Book Signing tour, although he may do reading tours and such. I'm not surprised. He's so famous now, he doesn't really have to do that if he doesn't want to. So I consider myself lucky to have met him before he's beyond the reach of mere mortals.
Hey Neil, sorry I became a totally starstruck fanboy. And I don't really expect you to read my story. But I hope you do. I bet you'd like it.
Yours Darkly, Conrad Zero