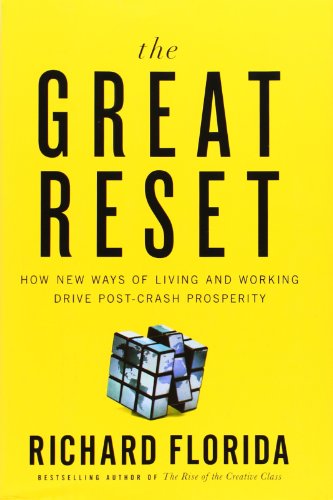 Don't recall how I came across Richard Florida's The Great Reset: How New Ways of Living and Working Drive Post-Crash Prosperity, but it sounded like an interesting and timely read for someone curious about where things are heading here in Post-Crash America.
The last thing I was expecting was a book written by a geographer… sorry, I mean a self-proclaimed "leading urban expert."   It's too bad, because although there are a lot of insightful observations in The Great Reset, they're buried in so much geographic factoids and musing that if you tore out all the pages filled with tripe about megacities, megaregions, corridors, belts and coasts, you'd have an amazing, thoughtful pamphlet easily one fifth the size of The Great Reset.
Where's the Web?
One thing missing from The Great Reset is a fad called the Internet.   Mobile computing is also conspicuously absent. Richard Florida must not think these things have a bearing on the current situation or our "new ways of living" because they aren't mentioned. This is probably because Mr. Florida is a self-proclaimed leading urban expert, and he's more interested and versed in the physical world than the virtual one. Note that he's not a suburban expert or a rural expert, so you can probably guess his suggestions for post-crash prosperity, but I'll touch on some of his main points:
Houses Bad, Apartments Good
He calls suburban houses McMansions. There's no doubt they played a major part in the housing bubble burst, and were a major contributor to the current recession, but it's not the houses themselves that are bad. Not even the big ones. It's people buying houses they couldn't afford that caused problems. Even I know that, and I'm just a hack writer from Minneapolis. The Great Reset tears down the American Dream of owning a home, equating it to a nightmarish anchor that limits your flexibility, ties you down and sucks all your money away, giving nothing back. Not true of course, but I'll get to that in a moment.
Mr. Florida believes you are better off living in more consolidated housing. He doesn't do this himself, mind you. He lives in a house near Toronto, Canada. Most of his rationale about housing is the debt that comes with them, which ties into his next major point:
Owning Bad, Renting Good
Mr. Florida says that housing can no longer be considered an asset that increases in value over time. I don't know who thought this, but I guess some people did. Anyway, he suggests renting becoming more prevalent as part of the new post-crash economy, which will allow people to be flexible in their employment and living options.
He mentions a housing concept that makes your rental living space more like a subscription that you can change on a moment's notice. An interesting concept, but one that he doesn't dwell on long enough to consider its effects. I would have liked to hear what he thought about how 'subscription housing' would effect human migration patterns or working conditions or influence job markets.   (Would people move to follow nice weather? Would states change their laws or taxes to attract residents? What if businesses were free to move about like people?) Exactly the kind of things I'd hoped to find in this book, sadly lacking.
The internet also makes a case against The Great Reset's tend towards renting vs owning. What kind of flexibility do you need in housing when you can telecommute? Doesn't it seem more likely that people will scatter away from high-density (Read: Expensive) areas to get larger property for less cost, and make up for the distance by utilizing high-speed communications technology to trade video/audio/ideas?
This all overlooks an important aspect of owning a home – after you pay off your mortgage, you DONT HAVE A HOUSE PAYMENT ANYMORE. What's more, this conveniently happens at an important time of your life –   retirement, when your income also tends to decrease. And once your home is paid for, even if it's only worth a fraction of what you bought it for, that equity is profit when you sell. Houses may decrease in value, but they won't decrease to $0 in thirty years. If you rent, you'll PAY FOREVER and OWN NOTHING, so keep that in mind, because the "leading urban expert" did not.
Suburbs Bad, Cities Good.
I'd hate to see Richard Florida's dream world. It would probably look like Zion from the worst parts of the Matrix trilogy, stuffed with living cubicles that look like Bruce Willis' apartment in The Fifth Element.
Then there's that pesky internet fad I keep talking about. If a large portion of work, social interactions and entertainment move online, then it doesn't really matter where you live. In that case, why not get more property for less money? Besides, if you put anyone like me into a hell like that, I'd kill everyone in a half-mile radius so I could have some personal space.
The MegaCity solution provided in The Great Reset doesn't make sense to me.   I'm more inclined to believe cities will go the other way – breaking down into MicroCities; tiny sustainable communities similar to the villages of ye olde days, or the Happy Hippy Communes of the 70s. One person grows crops to feed the village, another raises cattle.   One works on computers, another works on the wind turbine and solar panels that power the village. They all pitch in and work together to keep their little community running.   Strangely, our Leading Urban Expert never even considers or mentions this possibility. Probably because if it came true, he'd be out of work, and have to retrain to be a Village Expert.
Cars Bad, Bullet Trains Good
Mr. Florida sees cars as an outdated mode of transportation. He advocates connecting large cities together with high speed transit, turning multiple MegaCities into MegaRegions. He suggests that high-speed rail connecting lame-o cities like Minneapolis to important cities like Chicago would allow people to commute to where the jobs are.
But doesn't this just bump the McMansion problem to a larger scale? Isn't taking the bullet train from Minneapolis to Chicago every day just like driving your Humvee to work from your McMansion the suburbs? Not to Mr. Florida, who sees a half-hour car trip from the suburbs to the city as wasteful, stressful and pollutive, but a ninety minute bullet train ride between Pittsburg and DC is "reasonable". Huh? And how this is different from Airplane travel (that we already have) isn't clear.
I'm sorry, but public transportation does not solve all the problems. If you agree that one of the key features of the "new normal" will be flexibility in jobs, housing and entertainment, public transportation fails, big time. Personal transportation wins. Once again, it isn't the big cars that are the problem, big cars that people can't afford are the problem. Easily solved by making smaller, more efficient transportation like smart cars, motorcycles and mopeds, which we already have.
Another possibility that Mr. Florida never considered is that people might start to collect multiple forms of transportation. They'll walk/bike to work. They'll take the bus or rail downtown on weekends. They might have a moped/scooter for traveling to friends who don't live near a busline. And they might still have the big Range Rover under a tarp, but it's only for the occasional vacation or longer trip.
The Upshot
The overall impression I get from The Great Reset is that Americans should all move to New York and LA. This would not only be efficient and reduce our carbon footprint, but it would make us more connected, so we are better able to exchange and ideas and… well, stuff we share over the internet now.
There is a saying that when the only tool in your toolbox is a hammer, everything looks like a nail. I'd say when you're a "leading urban expert" everything looks like a problem that can be solved by packing into a Megacity where life is more 'efficient'. Perhaps he would have a more balanced view if he specialized in geography instead of just urban areas.
Despite many fallacies, omissions, and fluffed up geography discussions that would bore a city planner, The Great Reset poses useful thoughts on consumerism, education, political policies and trends regarding the current recession and comparisons to previous "Resets". But you'll have to read ten pages to get one page of useful info.
Yours Darkly, Conrad Zero