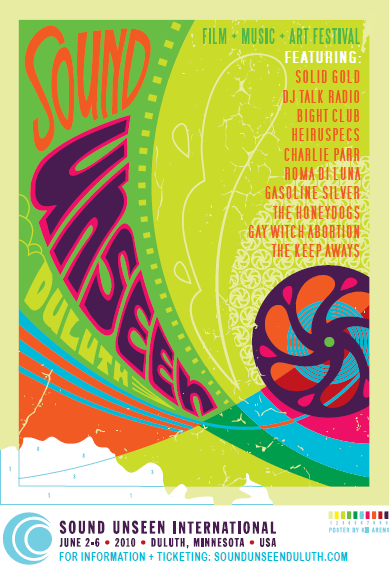 The Sound Unseen 2010 International Film and Music Festival
This year's Sound Unseen International simply must be seen. Five days of film and music starting today, June 2nd and runs through the 6th.
Cool bands. Cool films. Cool films about cool band. Cool films about cool bands with cool band members hanging out in the lobby, scarfing all the free beer and apps.
I fear this much coolness in Minnesota in such a short period of time might cause it to snow in June. Good thing they're holding it in Duluth.
A search for Sound Unseen online was frustrating. At first blush you might think the website soundunseen.com has been mostly abandoned. That's until you discover the correct website is http://soundunseenduluth.com. They also have the requisite Facebook and Twitter pages. Or you can download the program and music schedules right here:
World Premiere of Low Film Experience
A hypercool event going on at this year's Sound Unseen is the world premiere screening of an experimental film by Philip Harder. It's a kind of documentary about the local band Low…. wait a minute. It really isn't a documentary… Well, they seem to sum it up best as a "Low Experience":
Low Film by Phil Harder
Since Low's debut in 1994 Philip Harder has been shooting cinematic 16mm films for the band: a boat on frozen Lake Superior, Baron Von Raschke with red balloons, a room collapsing in slow motion around the band… Several music videos and film shorts later all Harder's raw footage of Low, 1994 to 2010 has been re-edited into a film with original on-camera sounds. Rarities, banned clips, and unfinished Low films were unearthed. This is not a compilation, not a documentary- but it definitely documents the Low experience. Perhaps Low's version of a musical- of sorts… June 6th, closing night of Sound Unseen Duluth, NorShor Theater will once again be turned over to cinema for the "Low Movie": a sneak preview in Low's hometown! Maybe you can help us find a title for the film.
Just accept that it's going to be amazing, and you might want to take the better part of next week off from work to contemplate it after you see experience it.
7:30PM Sunday, June 6th.
SACRED HEART MUSIC CENTER
201 West 4th Street
Duluth, MN 55806-2719
(218) 723-1895
Beyond Low – The Gala After-Party of Coolness (+4)
After the show, (around 9:30) make sure to check out the gala after-party:
Following the film, please join us at the Historic Greysolon Plaza – this time downstairs in their unique Moorish Room. Festival guests will be treated to a feast for the eyes courtesy of featured director/filmmaker Philip Harder\"™s film/art installation, in addition to complimentary appetizers from Black Woods Catering and free Schell\"™s beer and drink specials all evening. Entertainment for the evening comes from a band that has helped define the Twin Cities music scene, with 10 studio releases and over 16 years under their belt, we are more than proud to announce our special musical guests of the evening: The Honeydogs.
9:30PM Sunday, June 6th.
Greysolon Moorish Room
231 East Superior Street
Duluth, MN 55802-2165
Ticket Info
Ticket info for all events is here.
For the Low film/gala event, I'm told prices are $20for Film and Gala, $15 for Gala Only, and $10 for Film Only
A Warning To Those Pure Of Heart
The program doesn't warn you, but be careful – Gay Witch Abortion's music KILLS angels and incapacitates those pure of heart. You just might not be evil/wicked/cool enough to listen to them. If you think you are, then you probably aren't.
Yours Darkly, Conrad Zero