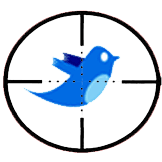 For those who don't know, Twitter is a service that lets you post bursts of random nonsense onto the internet in a format called a 'tweet'. Tweets are limited to 140 characters, so it's an exercise in succinctity for people who have a lot of nothing to say. Tweets can be sent/received from the web, cell phones, and automatically (as this blog post does through twitterfeed)
The real-world equivalent of Twitter would be: standing in the mall courtyard,  shouting out short sentences along with everyone else, as if the whole world had suddenly come down  with Tourette's Syndrome. It's interesting to simply watch the rolling stream of collective consciousness going absolutely nowhere in thousands of small steps.
Even when you understand it, it still doesn't make sense. Twitter about as useful as a wet-nap is to a scuba diver.
I've been on Twitter since middle of 2008 www.twitter.com/conradzero, and its undergone quite a shift in both popularity and purpose. People everywhere are scrambling to see how they can use Twitter in new and different ways. I have to admit that part of me finds it exciting when some new odd open-source project comes along, and the innovators dive in headfirst trying to twist it into usability.
The number of Twitter-ish applications are growing at a preposterous rate, and you can keep track of them at twtbase.com. Lots of people are desperately trying to integrate music and video ability into Twitter. And of course you can't help but be amazed at people trying to figure out how to use Twitter to make  money. I can tell you there will always be a market for idiots buying books on "How to make money using Twitter," even when the only obvious way is to sell a book titled, "How to make money using Twitter."
I was surprised to discover this message in my inbox last Monday: "The Dalai Lama is following you on Twitter!"  My surprise was only matched by my disappointment when I found out that it wasn't the Dalai Lama at all. [UPDATE: Turns out the account was turned over to His Holiness, so you can color me re-surprised!] I'm guessing God and Satan on Twitter aren't really who they say they are either.
One of the more interesting  uses of  Twitter that I've seen is people using it to release short stories, fiction or poetry  in small, 140-character pieces. I might consider doing that myself later this year.

So, what's the future of Twitter look like? Looking into the Magic 8-Ball;  I can imagine where my cell phone is programmed to post tweets for me based on my GPS location and a wetwire connection to my central nervous system, requiring no interaction on my part:
1:31AM – Still  at the computer. [Mood: Passive/Receptive/Gathering | Elapsed time: 2hrs 41min)
1:38AM  –  Wandered into bathroom [Privacy mode activated]
1:42AM – Standing in front of open refrigerator [Mood: Hungry/Active/Hunting]
1:51AM –  On the  couch, eating Ben and Jerry's Heath Bar & Coffee Ice Cream (Yum!), watching Pray For Daylight. [Mood: Sated and mildly amused]
Basically my entire  day getting poured out into the rolling consciousness cesspool of Twitterville. From there, it would be searched/scanned/filtered for target marketing purposes and aggregated Sociology studies, and the important bits tagged and stored in Evernote for future reference.
Privacy issues notwithstanding, we'll be able to pull up every moment of  our lives, and/or stalk anyone on the planet without bothering them. This should be handy for settling court cases (where were you on the night of August 6th?) and interpersonal arguments (When did you eat the last of the Ice Cream?), not to mention any debates about how boring our lives really are.
Add some audio/video ability to Twitter, and now you've really got something. We'll get together for the holidays and pull up Twitter to play back "The Infamous Shaving Cream Incident" from each persons' point of view. We can even pass these moments on to future generations, so instead of telling our kids what it was like heating the house with gas or electricity instead of  an in-home fission reactor, we'll be able to show them. Over and over again. And we'll all wonder how we ever got along without it.
That's  when someone will look up this old blog post and read my quote:
Twitter is about as useful as a wet-nap is to a scuba diver. – Zero
So, what do you-all think of Twitter? Any predictions about it might evolve into? Comment below or throw me a tweet.