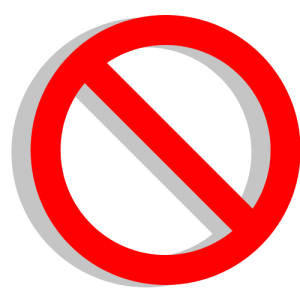 Use One Super-Powered Magic Syllable To Control Time
Dreamhaven Books in Minneapolis is not a big bookstore. But whenever I'm there, I see dozens of books I want to read. Hundreds.
I'm sure Greg, the owner of Dreamhaven, would love for me to buy the entire Lovecraft section all at once, but I know that's not a good idea. It takes some willpower, but I've learned to limit myself to buy no more than I can read between visits. Um, more or less.
When you look at all the books available, even at a small bookstore like Dreamhaven, and many more titles coming out every day, you'll realize that it's impossible to read them all, even if you had several lifetimes to devote to full-time reading.
You only have so much reading-time. So you have to choose.
No one wants to choose, but sadly, you have no choice about it. And it's not just reading time that's limited. Every waking moment, you have to choose what piece of the world gets your attention. Looking at it from the "time is money" perspective:
You only have so much life-time, so you have to choose what you will spend your life on.
Like walking around in Dreamhaven Books, there are lots of glorious things in the world vying for your time. Friends. Family. Books. Movies. Video Games. Concerts. Social Media. This blog post. And if you say "Yes" to all the things… well, you really can't.
You have to choose.
The Value of Creative-Time
This is a larger issue for 'creatives' – people who generate some kind of art. Regardless of whether they do it for their 9 to 5, or just in the wee hours after the rest of the family has gone to sleep, they only have so much 'creative-time' and every minute spent Not creating is… a minute spent Not creating.
If time is gold, then creative-time is diamond, dipped in platinum and wrapped in bacon.
[Click to Tweet This!]
The Power Of "No" (In Theory)
Thankfully, some really creative and negative person invented the word "No" which I translate as, "Not That Right Now."
No is a powerful tool. No controls time. No can be used to determine what things you will focus on and what you will not. Creative people can use No to get more done.  Kevin Ashton says it gloriously in his blog post:
"No guards time, the thread from which we weave our creations."

-Kevin Ashton  Creative People Say No
On average, I give myself at least two hours of creative-time every day. Which made me wonder why I don't get more accomplished.
But when I looked back on how I spent my creative-time, I realized that I haven't been spending much of it actually creating.  Website updates. Social media. Networking. Writer's groups. Blog posts like this one… These things are great, but they are not progress towards any kind of writing goal.
Ironically what made me realize all this in the first place was a book. (Read during my 'creative-time' natch.)
Manage Your Day-To-Day, from  Jocelyn K. Glei  at  99U.com.  The best lesson I learned from this book is that I should actually stop reading books like this and start writing.
The Power of "No" (In Practice)
"Inspiration is for amateurs – the rest of us just show up and get to work."

-Chuck Close (link)
I approach my creative-time differently now. I don't think about what 'writerly' things I'm inspired to do today. Instead, I think of how much closer I can get to completion on a particular story. What I'm going to do is predetermined before I even put butt-in-chair and hands-on-keyboard.
Now, my creative-time is a precious resource that shouldn't be squandered, instead of a luxury I deserve after a hard day's work. This gets me to focus on why I'm there in the first place, and say No to the things that don't belong in that creative-time-space. Like Melanie Pinola points out, No is the button that keeps us on.
I still have play-time. Movies. Video Games. New restaurants with old friends. And I still read books on how to write better. But my creative-time is for creating.
Yes, I've been saying No to things.
Social media was the first thing to get expelled from my creative-time. Ignoring it for a couple hours while I write has not been difficult, nor has it resulted in any adverse effects.
I said No to the Fourth Street Fantasy convention this year. Instead, I used that weekend of allocated creative-time to finish off a major project I'd been working on. Oh, and I saved $100.
And I didn't stop there. I'm using this super-power to control other times as well. Because my play-time, reading-time, social-time, exercise-time  and sleep-time are all important to me as well.
This process isn't always easy. The world doesn't always like the word "no" and will give you friction for using it. But keep this in mind:
When you say "Yes" to something, you're also saying "No" to EVERYTHING ELSE.
[Click to Tweet This!]
Manage Your Day-to-Day on Amazon (Affiliate link – thanks for your support!)
Yours Darkly, Conrad Zero