What Is A "Social Paywall"?
A new invention for social-media-ville is called a "social paywall." You may have already seen its older brother (called a financial paywall) in posts and articles. A financial paywall looks like this: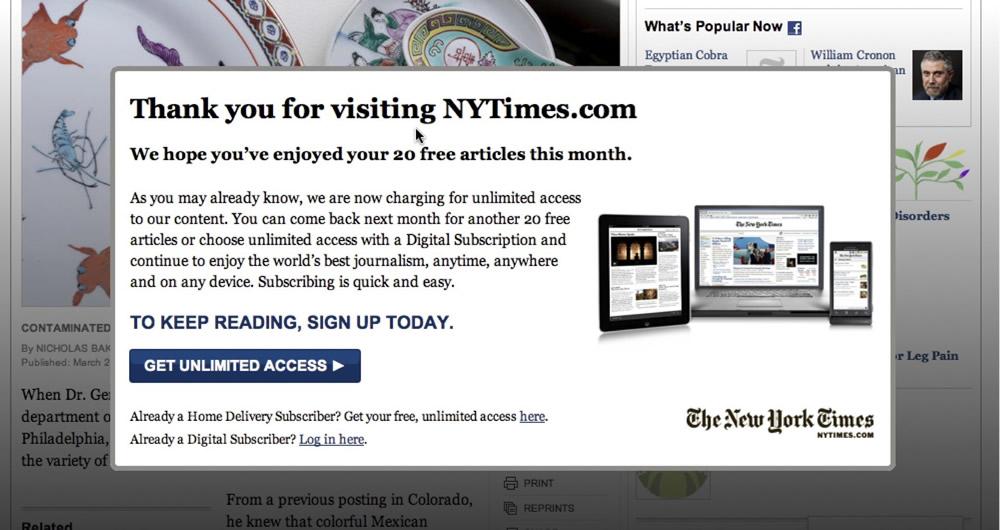 Makes sense. You get some content for free, but if you wanna get past the wall, you have to pay to continue.
A Social Paywall is different. It looks like this: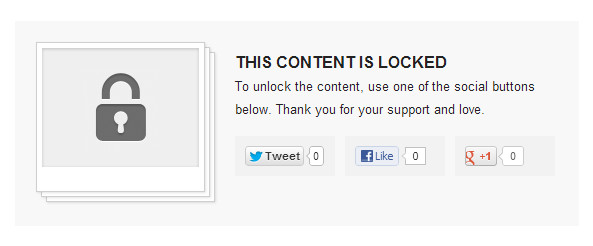 With a social paywall, you "pay" to access content with your social media approval.
In the world of websites, social approvals (likes, +1s, shares, etc.) have a value. They are like votes. They add up to something called Social Proof, also known as clout, moxie, or influence. They also might help jack up a website's SEO. (Search Engine Optimization) These results are so valuable to website owners that it's easy to understand how they could mistake social approval for currency.
So now websites with social paywalls will expect you to share/tweet/+1/like before you can access the content. Because your +1 is just like money, right? And it doesn't cost you, so you won't care, right?
You should.
The Problem With The Social Paywall
In the physical world, we are used to paying for things in the form of an exchange. You can stop in at the local bar and watch the big-screen tv for free. Popcorn and water is free too. But if you want a shot of Fireball Cinnamon Whisky, you're going to have to pay for it.
That same business model works fine online as a financial paywall. Some content/info is free, but if you want something more, then you have to pay for it.
But that's NOT how social media likes, +1s, shares and other social approvals work.
Social paywalls twist the function of likes, +1s shares, etc. corrupting 'social proof' as we know it. – [Click to Tweet This!]
Back in the physical realm, when you have a good experience at the bar – when the bathrooms are clean and the bartender is friendly, and makes your drinks so strong that they start to dissolve the glass they're served in – then you leave a tip on the counter as you go. And you tell your friends, "Hey you should check out this great place." That is your real-world social approval.
Online social approval is no different. Your facebook "likes", shares, +1s, positive ratings, thumbs-ups, retweets, happy comments and blog posts are the equivalent of telling your friends "check this out! I like it!'  Social approvals are just that: Social + Approval.
But with a social paywall, you have to socially approve something before you see it. So how do you know if you "like" or "approve" of the information before you view it?
You don't. You can't.  And that's the problem with a Social Paywall. Those who use it are restricting content until AFTER you share it or  AFTER you say that you like it.  The social approval is given before the product/service has "proven" itself, which does not compute. Would you tell all your friends that you loved a book before you've read it, or tell them that a bar is a 'thumbs up' before you've even been to the place?
Social paywalls are an attempt to game the system. They fundamentally twist the function of social approvals, and will inevitably corrode the credibility of "social proof" as we know it. This has already happened to the book reviews on Amazon. Greedy folks gamed that system too, and it lost it's usefulness.
There are other problems with a social paywall, (ie: not everyone has a facebook account, and social sites are sometimes blocked by corporate firewalls…) but these are pretty minor in comparison and mostly affect the website owners. But the damage social paywalls could cause to the existing system would unfairly impact all internet users.
The Executive Summary Version
Social approvals (facebook likes, google +1s, tweets, shares, etc)  are the online equivalent of telling others about something ubercool that you experienced. Optional. Not necessary. They are intended to let your friends know what you believe are above-average products/services. But social paywalls demand your approval before you see the content, which makes about as much sense as raving about a product or service you've never experienced.
It doesn't surprise me that someone would come up with the social paywall. And it won't surprise me to see websites actually use it. But it's beyond rude, and it ruins the simple and effective method of social proof by trying to twist it into an entry fee.
Web Designers: Quality content begets social proof, not vice-versa. Use a financial paywall if you think your content is worth it. Ask for email or account registration if you think your content is worth it. But leave the social media links at the bottom or side of the content. People will gladly like/+1/tweet/share/forward your content… after  they read it, and after  they decide that it's worth approving/sharing.
Yours Darkly, Conrad Zero