"That's it," I said.
Four Hundred and some-odd slices of dead tree stood stacked up on the desk. Nearly One-Hundred-Thousand words that have taken me years to choose and arrange…
…and I was looking for lighter fluid and my lucky Zippo lighter.
I'd just read a Real book from a Real author, then I looked back at my own work, something I had the audacity to actually print out. I felt bad for the tree that was killed so I could redline the latest version of the Evil Looks Good manuscript. Turns out a red pen wasn't enough. I was going to need a 12″ wide red paint roller. It would have been easier to highlight the sections that weren't complete garbage. There wouldn't be many.
There's lots of names for this phenomenon, Burnout, Inner Critic, Self-Doubt, and more, but I call it "Hitting the Wall".
What is "The Wall"?
Some who discuss this anomaly are quick to label it as a form of Writer's Block. This gives them immediate access to the wealth of books, advice and ready-made solutions for that particular problem.
Unfortunately, hitting the wall is not writers block. It's motivation block. I've had both, and believe me, they are two different animals. Their only similarity is that when you have either of them, you don't get anything written.
Hitting the wall isn't writers block. It's motivation block.
Writers block is when you are Stuck For Something To Write. When you hit the wall, You Don't Want To Write Anything At All.
With writers block you stare at a blank page, desperate for some spark of creativity, or some muse to come flirt with your brain. You want to write.
When you hit the wall, you don't stare at a blank page. You stare at the television, or a video game, or another book, or perhaps (ironically) a wall, because even that is preferable to wasting your time trying to be a writer when you know you are a hack who won't ever amount to anything and this delusion of being a writer, this temporary insanity that anything you write will ever be read or is even worthy of being read saps all your motivation away, and not only do you not want to write ever again, but you're compelled to cut your own hands off with a bandsaw as a public service….
Sorry, I digress.
Let's take a look at some likely de-motivators that can create a wall between you and completion:
Brick in the Wall (part 1) – Burnout or Overexposure
I think the reason I hit the wall with my story is because I spent too much time on it. It isn't hard to do. Musicians do this all the time. You can keep working on a song or book forever, supposedly making it "Better". But after working on the same thing for an extended period you will eventually get sick of it, like eating the same meal for lunch every day. Some people call this phenomenon "Burnout".
If you run into Burnout or Overexposure, the cure is to minimize contact with your own work. Limit the amount of time that you allow yourself to work on a piece. (Especially the duration measured in weeks/months.) Put it away for a while and work on another section or better yet, another story.   Lock it away for a while, and come back to it later with a clearer mind and fresher eyes. Then, give yourself a deadline for completion. If you are your own publisher, start acting like it and make some deadlines and hold your author (yourself) accountable.
Brick in the Wall (part 2) – Unhealthy Comparisons
What really lit my fuse was reading another author's work that was an example of really good and inspiring writing. Then I read my own work…yikes! Nothing will taint your own work like comparing it to someone else's professionally edited   (and proofread, and published, and bestselling… you get the idea) book.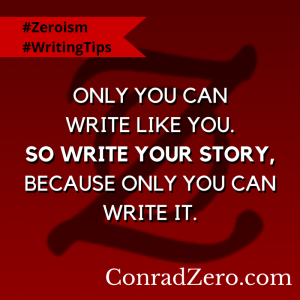 To avoid this scenario, avoid comparing the perceived 'quality' of your work to the work of other authors. This is the 'grass is always greener on the other side of the fence' dilemma. It may be better than yours, it may not, but the fact that you'll never write like someone else also implies that no one else can write like you. No one else can write your story but you.
Know that when you're done, someone else is going to look at your story and feel bad about their own. But this won't happen if you don't finish it!
Brick in the Wall (part 3) – The Fear of Completion
One type of wall you might hit is the Fear of Failure disguised as Fear of Completion. This can make you doubt if not outright sabotage your own efforts, especially if it happens when your story is nearly finished. If you never complete the book, then it never gets judged. If you pre-emptively judge it as 'sucky' and never release it, it spares you the possibility that anyone else might judge it as 'sucky'. It's the same philosophy of people who don't enter contests. They don't want to lose, and if they don't play, then they don't lose, right?
Wrong.
To overcome this version of the wall, you have to change the definition of failure, and make it work in your favor.
Realize that failure = You Not releasing the best book that you can at this time and place in your writing career.
Re-writing the same book over and over won't help you to become a better writer. At some point, you are simply changing the book, and not making it better, you're just wasting your time. You won't get better if you don't finish your work and get it out there. If you don't complete it, you Lose.
Better yet – you're a Loser until you complete it.
Success isn't releasing the best book ev-ar, it's releasing your book as the author you are now. Don't worry about making this book better than it is, make it the best you can right now, and get it behind you so you can grow. Then you can worry about making your next book better than this one.
Continuing to release better and better books is how you progress as a writer. If you can get this mindset, it will help you to overcome the fear of failure and motivate you to completion.
Tear Down The Wall!
The way out is through.
It was a huge relief for me to recognize The Wall for what it is. Both a fantastic album by Pink Floyd, and a step in the writing process.
Just the knowledge that others go through this phase (often enough that there's a name for it) makes it more tolerable. It isn't just this story you're working on, and it isn't just you.
The Wall is a test. There's ten thousand things that will get in the way of you writing a book. This is just one of those ten thousand things. A conflict for you to overcome the same way the hero in your story overcomes their conflict. One of the very first conflicts is getting started, and some people never get past that point. If you're up to the point where you are having problems like hitting the wall and motivational block, be thankful because you have actually made it further than most people.
Remember, to breach the wall of motivation block you don't need jump starts to your creativity, you don't need to tickle the muse, what you need is motivation. There's ten thousand places you can get it. Here's just one.
Outside the Wall
My lighter didn't work (lucky, eh?), and so my manuscript is safe. For now.
Realizing that others have this problem is a big help, and I hope I've helped other writers recognize this problem for what it is. If you have other suggestions on how to avoid, circumvent, pierce, penetrate, or otherwise 'tear down the wall', drop them in the comments section. Best of luck, and I'll see you on the other side…
Yours Darkly, Conrad Zero