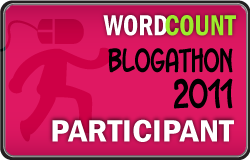 I've decided to take part in WordCount's Blogathon 2011:
The WordCount Blogathon is an annual event that brings together professional writers and anyone else with a blog for the purpose of improving what they do by posting to their respective blogs every day during the month of May.
My goals for the blogathon are meager. I was already considering trying to post here more often, and this is a timely opportunity to motivate myself. Plus, it has the added advantages of community-building and SEO. The real challenge is going to be coming up with useful and/or entertaining things to blog about each and every day for the next month.
Looking back over the last seven years of posts here at conradzero.com I noticed a shift away from short, entertaining posts to longer, more informative ones. (Actually, the short posts have been outsourced to twitter and facebook.) For this blogathon, I'm going to try releasing more moderate-sized posts, or perhaps break large posts into a series, while trying to keep the same proportion of entertainment/information. Infotainment? Regardless, I'll do my best to remain a source of useful information and inspiration for other authors, especially those writing dark fiction.
Today is the last day to sign up, and you have until 11PM Pacific time. Best of luck to all the Blogathon participants!
Update: List of all WordCount Blogathon 2011 participants can be found here.
Yours Darkly, Conrad Zero