When my monitor of almost ten freaking years went kitty-wompus, I saved my pennies and splurged on a nice 22-inch LCD monitor. Of course I was eager for something to test it out.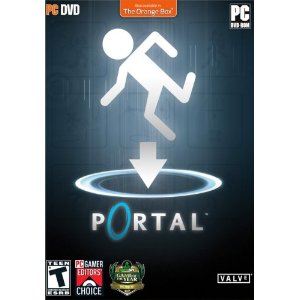 Sifting through my pile of unfinished video games, I came across Portal, a member of Valve's Orange Box. Wicked addictive fun, and from what I read after completing the game, it drew higher praise than the other components of the Orange Box. You can now purchase Portal separately.
Portal is a puzzle-style game. Your character doesn't have a truly offensive weapon, simply a Portal Gun, which opens teleport planes to allow you to move things (most importantly yourself) from place to place. The physics of the game are great fun, and often necessary to solve the puzzles and advance to the next test area.
The best part of the game is the dialog of the computer construct which tutors you as you go through the various 'tests'. The dialog for the game is as quotable as any good movie. Reprinting it here does not do it justice. The affect and tone are just as important as the lines. The promises of "cake" for completing puzzles is hysterical.
The Cake is a Lie
While playing Portal, you may eventually wonder if there truly is any cake at all. Clues left behind by someone who had gone through the test before you say that "The Cake Is A Lie" which lead to a meme among gamers. The Cake is a Lie has become gamer-geek-speak for anything promised and not delivered.
Roughly translates to "your promised reward is merely a fictitious motivator".
-From http://www.urbandictionary.com/define.php?term=the+cake+is+a+lie
Still Alive
I won't tell you if there truly is cake at the end, but there is a song that is quite funny. Make sure to sit through the end credits to hear this lovely song "Still Alive" by Jonathan Coulton:
The game took me about 6 hours total to finish.
Thanks much to Saveau for the Portal tip. It was a great distraction and a good test for my new monitor.
Yours Darkly, Conrad Zero