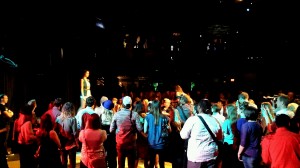 After a hiatus, Voltage: Fashion Amplified returned to First Avenue, Minneapolis. The combo of up-and-coming local bands crossed with up-and-coming local fashion designers was the brainchild of Minneapolis fashion maven, Anna Lee. While Anna is no longer involved with this project, the fashion committee she gave birth to, MNFashion.org, hopes to carry on the 8th installment in the tradition of runway fashion show crossed with a rock concert.
Bands (dressed by designers) perform live while runway models prowl the catwalk wearing fashions by other designers. This cross-pollination of artforms should appeal to many: People who want to sample local music, those who want to sample local fashion, and those who simply enjoy interesting artistic events.
I've attended all but one of the Voltage concerts since 2005, and I can tell you attendance was surprisingly low from the last show. Easily half as many people attended. Too long between shows? Lack of promotion? A spring Saturday overflowing with graduations, weddings and fishing contests? Or is the concept wearing off? Hard to say, but I was happy NOT to have to fight my way through the rude crowd that made the last Voltage show feel like it was held at the Fine Line.
Fashion
Diversity was lacking at this Voltage, with the bands being slightly more diverse than the overwhelmingly-white-female-twenty-something designers. Check out the lookbook here for the list of designers and bands:  http://mnfashion.org/wp-content/uploads/2013/06/Voltage_2013_Lookbook.pdf  The hardcopy of the lookbook was high quality and very well done.
There were no male models, and no male designers at this year's Voltage.
I'm not a design-guy, but the designs themselves seemed more safe (read: bland) than previous years. Nothing caused a burst of photo-flashes or "oohs" and "aahs" from the crowd. In fact, there were a lot of things I can imagine people actually wearing. Perhaps Voltage is changing from a venue of "art on parade" into one that actually shows fashions someone might actually purchase. Like I said, I'm no fashionista, but the previous Voltage shows took some brave chances with things that even Bjork would think twice about wearing. The fashions at this Voltage seemed much more limited in range.
There was a bit of a storefront off to the side with some works by the designers, and a Voltage-Approved Lipstick created by the Elixery.
Bands
Bomba de Luz
My personal favorite from the show, Bomba de Luz is chock-full of folk, jazz, rock, soul, more jazz, and maybe a dash of funk, but mostly energetic and atmospheric songs that make you wanna learn the words so you can sing along in the car.  Official Website
Aby Wolf
A collaboration of female vocalist Aby Wolf and the ever-present, omni-talented Grant Cutler was a nice diversion. Aby Wolf's hyper-reverbed vocals bordered on the etherealness of Cocteau Twins. Cutler's backstage button-pushing was tasteful and wisely did not overrun Aby's voice. Bandcamp
The Chalice
With more than a nod to Salt-n-Pepa, (and a song called Push It) The Chalice is also a female-rap-trio packed full of fun party energy. Bandcamp
Sean Anonymous
If Weird Al's nephew and Eminem's niece had offspring, it might look and sound like Sean Anonymous. Infectious, contagious, and fun hip hop. Any hip-hop band that can get me to bob on the dancefloor gets my vote. Official website.  Facebook.
Yours Darkly, Conrad Zero