Regarding swearing, George Carlin said it best:
"There are no bad words. There are bad thoughts, bad intentions… and words."
If you don't believe that, then you should stop reading this post. Right fucking now. Because having been both an angry young man and served time in the military, I've grown and sharpened a fairly salacious tongue.  But even I know that there's a time and a place for swearing, and it's useful for authors to know when and where it's OK to do so.
Whether you SHOULD swear or not is often obvious. Swearing probably isn't a good idea if you're writing for a children's market, religious market, or for something that will be publicly read/displayed such as a newspaper or contest. Swearing at all  in these cases is like swearing at your boss during a performance review, so you might want to check out "Alternatives to Swearing" below.
But when writing fiction, it's not a question of whether you can or can't – it's the art of HOW MUCH SWEARING IS TOO MUCH that gets writers in hot water and poor reviews.
One author's 'Realistically Portrayed Character' is another reader's 'Pottymouth.'  [Click to Tweet This!]
Less is More
One of my beta readers for Evil Looks Good pointed out my overuse of swearing in my rough draft manuscript, which surprised me until I went back and read it again. The story involves characters who were members of a Minneapolis rock band, and they swore a fair amount.
I've been in bands for years, and hung out with plenty of musicians, both on and offstage. There's all kinds of unacceptable backstage behavior, and swearing is the least of it. While writing Evil Looks Good, I wanted to bring that verisimilitude to the story. But one author's verisimilitude is one beta reader's ear-burning.  After re-reading the draft, I decided that she was right.
Overuse of swear words in fiction waters down their impact like using too many exclamation points. I fixed this by choosing only a few characters in the novel as "pottymouths" (or "blue" if you prefer.) This helped my story in two ways. First, limiting the swearing to certain characters made those characters "blue" instead of the entire book. Second, because only those particular characters swore, it give them a more distinct personality. In fact, I was able to remove some speaker attributions ("He said" or "she said", etc.) which helped the dialog flow better.
If you're telling an entire story in first-person and the first-person narrator is the swearer, this can be tricky, but it can still be done. Simply limit their swearing to certain situations. Perhaps they don't like crowds, they get frustrated and irate, and their language becomes more crass. Or perhaps they only swear when they are with people they know and trust, letting their real feelings show. Perhaps they only swear when they are around people they don't know and trust, keeping them distant on purpose. Perhaps they only swear when things aren't going their way, something many of us can relate to.
The overuse of swear words in fiction waters down their impact, like using too many exclamation points. [Click to Tweet This!]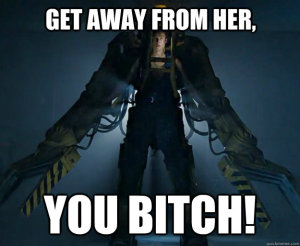 Cutting back on swearing makes it more powerful when it does occur. You can use this to your advantage. In the movie Aliens, the line "Get away from her, you bitch!" is used to awesome effect. It occurs at exactly the right time and place, and it's one of the most recognizable and quotable lines from the movie. Less is more.
Be careful not to overdo this. I guess I mean 'underdo' this. If you write six books in a series without any swearing and then suddenly break out a curse word, audiences will get their feathers ruffled. Ask J.K. Rowling, because this is what she did in the Harry Potter series, which had NO swearing until the seventh book, when Mrs. Weasley says, "Not my daughter, you bitch!" To some readers, that's like getting most of the way through a meal and then biting down on a jalapeno pepper. And while it brought J.K.Rowling a slew of media attention, much of it was negative.
Keep in mind that some people are very sensitive to swearing, and the more you use it, the less they will like your book. Here's an area where knowing what your target market likes/doesn't like can help guide your writing.
When To Swear, And When To Keep Your Fucking Mouth Shut
So we've established that "less is more" when it comes to swearing. But that doesn't mean we have to cut it out completely. There are many cases where swearing can be a useful author's tool:
Swearing to Set the Tone
If your novel is filled with horrific monsters, terrifying situations and /or tentacle porn, you might wanna set that "R" rating right on page one. One way to do that is by enlisting unsavory language. Those who are easily offended will  be offended, but you may be better off establishing that this is an adult book on page one, rather than letting them get to the part where the couple having sex in the woods are devoured by spider-leeches.
Swearing to Establish Character
A hard-boiled detective whose default curse word is "golly" is bound to get some laughs. If that's what you're after, fine. But if you want people to take your tough-as-nails characters seriously, you may have to give them some tough-as-nails language, especially when we first meet them. Similar to setting the tone of the novel, a first impression of a character swearing can help your audience to get a quick lock on the character's personality.
Be careful with this tip. Some people think swearing is a sign of lack of intelligence. It's reassuring to see someone else as baffled about this as I am.  But you can use this to your advantage, as well. Wanna make a character seem dumb? Make them swear like a sailor. Wanna make a character seem complex? Make them swear like a sailor, but reveal their occupation as an astrophysicist.
Swearing to Heighten Tension
Swear words can make a scene more dramatic. A normally docile person who breaks out a swear word can help the audience realize how upset that character is without ever dipping into their POV (point of view). A group of people disarming a bomb might start dropping swear words as their stress level increases.
Swearing to Break Tension
Sometimes, swearing can help transition tension to the breaking point, triggering a resolution.  This is used to great effect in many Hollywood movies. I've already mentioned Aliens. In the movie Jaws, just before Sheriff Brody pulls the trigger, he says, "Smile you son of a bitch!" And the Die-Hard franchise wouldn't be what it is without the properly placed "Yippie Ki-Yay, Motherfucker!"  This would be the part in the movie where the audience cheers. Consider it the cherry on top, but it should be carefully placed and used in moderation.
Alternatives to Swearing
It never fails. As soon as society picks out a word that describes a negative aspect of a person, group, or situation, the word itself gets labeled as "bad" and using it becomes taboo. So we find another word, and the cycle continues. My philosophy is that writers use words, and can't afford to be afraid of them. But if you're writing under restrictions, or the editor or beta-readers ask you to kindly remove all the "assholes" from your story, then here are some alternatives to swearing that you can use in your fiction writing:
Create Your Own Swear Words
If you're a writer, then hopefully you are creative enough to make up your own swear words. I really enjoy it when authors do this, because it adds a layer of depth to the story world.
In Joss Whedon's series Firefly, slang Asian words were used as swear words. This lent a feel of futuristic, cultural blendedness to the show's sci-fi mythos. In the Harry Potter series, you might run across a "Merlin's Beard!" or the like. My favorite swearing is done by Spongebob Squarepants. "Tartar Sauce" and "Barnacles" get the point across and add humor at the same time. In my own short story, Homeward Through Darkness, the protagonist Cyan uses the curse word "Static!"
"Shut The F…ront Door!" – Implied Swearing
Flipping. Frigging. Frak. F-bomb. N-word. Anyone old enough to masturbate knows what these words really mean, but for many people, implied swearing or Curse-Lite is completely acceptable. This works great… around the swear-tip-jar in the office, or when the kids are within earshot. But in fiction writing, it often has a comedic effect. If that's what you're after, then flipping go for it, you Son Of A Sea Biscuit.
Show, Don't Tell – Working Around The Word
The very best way to work around calling someone a "bitch" or an "asshole" is to SHOW, DON'T TELL. You've only heard that advice a billion times now, but here is one of the billion reasons why.
If Character 1 calls Character 2 a bitch, then that's just their opinion, which may or may not be true. But, if you show us Character 2 doing bitchy things, then the audience will fill in the blank for you.
You can also encourage audience  participation by holding the blank out there for them:
"Oh you are such a…," Character 2 turned and stormed out of the room.
This works better than swearing, because people will fill in the word this is most meaningful to them. Swearers will fill in the word "bitch" and non-swearers will fill in the word "crabby" (or whatever adjective non-swearers use to describe bitchy people). We all get the point, and no one is offended.
Lets Just Sum This Shit Up, Eh?
Art imitates life. And there is swearing in real life. Ergo, there will be swearing in art. Some people appreciate this, and some do not.
Think of swearing as a spice, like cilantro or cayenne. Not everyone likes it. Some people are allergic to it. So use swear words in moderation – not just when appropriate, but when no other word will fucking do.
Yours Darkly, Conrad Zero