2015 marks the 45th Arcana, Convention of the Dark Fantastic. This three-day convention was held at the Best Western hotel at Bandana Square in St. Paul, MN.
The con is intended for fans and creators of dark fiction, dark fantasy, dark sci-fi…
…let's be honest, "Dark Fantastic" sums it up quite well.
Guests of Honor this year were Catherine Lundoff and Benjamin Percy. 
Here's just some of the programming panels:
Small-Town Horror
Post-Apocalyptic Fiction
Wolves, Werewolves, and

Wolfen

in Fact, Folklore, Fiction, and Film (Arcana's "Monster of the Year" for 2015 was the Werewolf.)
Women and Victorian Horror
Literary Horror vs. Lowbrow Horror
Penny Dreadful and Penny

Dreadfuls

Discussions of HP Lovecraft, Sir Christopher Lee, Clive Barker, 

Tanith

Lee and Angela Carter
Readings and signings by Catherine Lundoff and Benjamin Percy
Discussions of "What are you Reading?" and "What are you Watching?"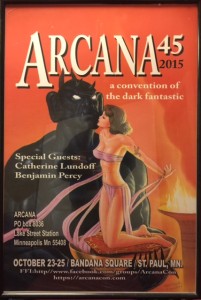 There were also showings of classic films, a dealers room, and an auction of things not only dark and beautiful, but Rare… Lots of out-of-print and hard to find things.
The dealers room included the artists collectively known as 'Fastner and Larson.' I got to meet Steve Fastner and watch him work. Pretty amazing stuff. Check out their gallery of amazing illustrations.
Was thrilled to meet and schmooze with some great authors, agents, fans and other folks who love dark fiction. It was nice to see familiar faces from MNSpec – Jason Wittman, Michael Merriam, Mike Schoenberg, and a ton of other cool people.
Overall the convention is small and relaxed. The tastes run the range from horror to weird, psychologial to distopia. If you read, write, watch or otherwise appreciate dark fiction then you should check out Arcana.
#OverheardAtArcana
"This is my gamehole face." #OverheardAtArcana
"Maybe I should go home and write spider-erotica." #OverheardAtArcana
"No one promises me a radioactive armadillo story and doesn't deliver." @clundoff #RadioactiveArmadillo #OverheardAtArcana
Links to Arcana, A Convention of the Dark Fantastic
Yours Darkly, Conrad Zero