In a word, 2010 was stagnant. But it certainly wasn't a bad year, and that in itself is an improvement over previous years.   Here's some highlights of my 2010.
Conrad Zero = Published Author
2010 is the year I officially progressed from a writer to a published author. My story Big Game is now available through the Apex Publications compilation: The Blackness Within. Being picked for publication was an honor and a valuable experience. You can read more about my published authorness in this blog post.
My ratio of accepted submissions stands at 100%, so now I'm terrified to submit another story, because I might break my perfect record.
Read more about Big Game here.
The Blackness Within on Amazon.
MNSpec – The Minnesota Speculative Fiction Writers Group.
While I joined MNSpec back in 2009, it wasn't until 2010 that I really started getting more involved with the writers group. Just a few months ago, I offered to record and edit the group's monthly podcast and was accepted into the group's inner circle.
And I thought they were kidding about the Secret Volcano Lair…
Netflix
With all the video rental chains dying off, I finally jumped on the Netflix train, and there's no going back. The Netflix business model has changed the way I view video media. I pay a monthly fee and have access to hundreds of movies that can either be streamed immediately online or sent in the mail in a couple days. Because of this new system, I don't feel a need to own anything but the very best movies. I pay a subscription to access the Netflix movie library, and let them upkeep it for me.
I'm hoping other media businesses will consider this model. The publishing and recording industries for example. Rhapsody.com lets you access their vast music library for only $10 per month, but the website search/layout and the library just aren't there yet.   The publishing industry… well, they just discovered this interweb fad and who knows? Someday they might even take it seriously.
The Roof Over My Head
A major event in 2010 was when State Farm Insurance refused to cover hailstorm damage to my roof, and falsely claimed that the damage was due to "defective shingles." Seriously. They also notified me that they would drop my coverage if I didn't replace the "defective shingles" at my own expense by 31 Oct 2010. Talk about adding (expensive) insult to injury. While all my neighbors had their roofs replaced by their insurance (none of them had State Farm btw…), I was blackmailed by State Farm to pay for my own replacement. The cheapest quote I could find was nearly eight thousand dollars. I couldn't even switch insurance companies, because I had an open claim.
Thankfully, I have awesome friends and family who really came through for me when I needed them. With their help of time, effort, experience and tools, I was able to replace the roof myself for three thousand dollars.   Thank goodness for credit cards.
Of course the microsecond the roof was replaced I told State Farm to "suck it" and switched to Allstate Insurance. (Sorry Flo, I still love you, but Allstate's cheaper!) My life's goal now is to put State Farm out of business, and I hope all the lying, blackmailing adjusters at State Farm die in a house fire which State Farm refuses to cover because their homes are "defective."
Music
Locally, City Pages finally figured out that Gay Witch Abortion deserved "Best Rock Band".   Bella Koshka's Island of Deception was a brilliant 'Gypsy Noir' followup to their 2008 debut, Slow Dancing on the Ocean Floor, but they disappeared right after their CD release party on May 7th. Poor Weather Club released the dark and brooding Escondido on the same day, and haven't played out since last July. What gives? I'd complain that bands aren't supporting their albums, but that would make me a hypocrite, since Jagged Spiral did the exact same thing.
On the national music front, what happened to the guitar heroes? When he's not jamming with The Orb, David Gilmour is playing music soft enough to put Enya to sleep. I'm undecided on Neil Young's Le Noise. I'm almost enjoying Shooter Jenning's Black Ribbons album, which scares me. Mostly I'm listening to classic industrial alt-rock from NIN, Marilyn Manson, Nirvana, Alice In Chains, etc… Where's the new alt-rock? When the hell is the new Tool album coming out?
Check out Spin's picks for the 40 best albums of 2010. Rolling Stone gives their top 30 albums of 2010 here. And NPR gives their picks here. Seems everyone has decided that Kanye West is god. Don't know about that, but please, someone kill Kid Rock. I'll give you a dollar.
Video Games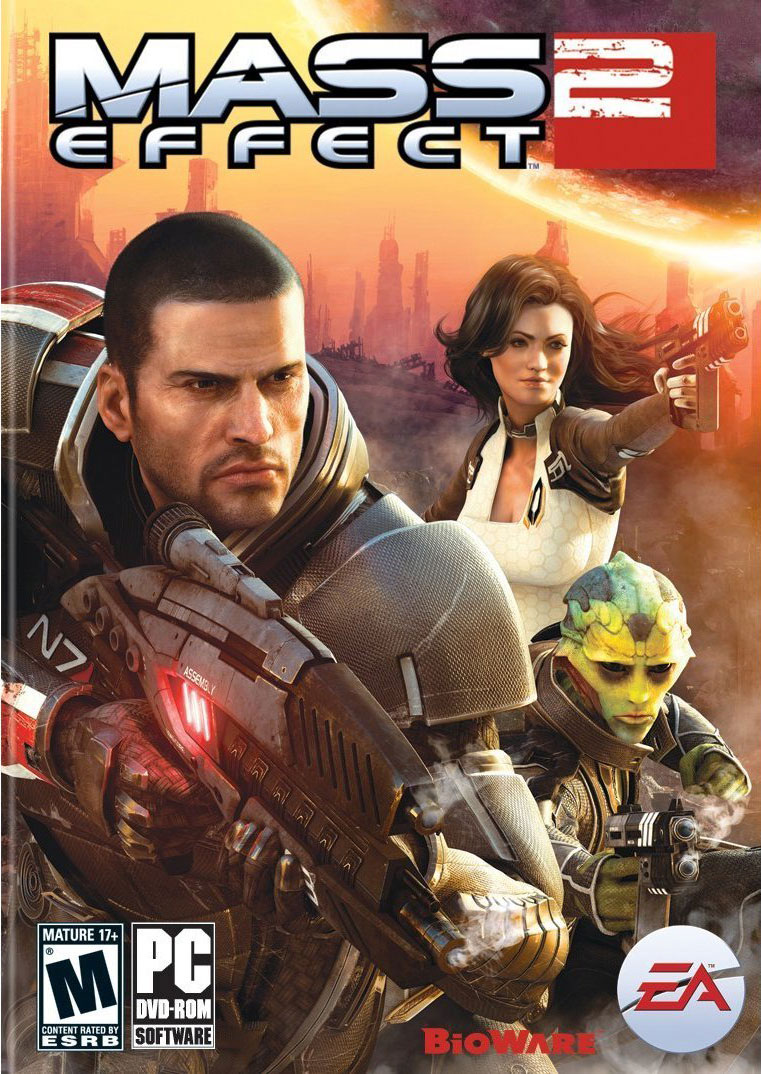 It was a great year for video games. Bioware pretty much blew the doors off the video game industry in 2010. The 2009 release Dragon Age was amazing, and the expansions that continued into 2010 gave me plenty of reasons not to leave my dungeon. (Check out my review of Dragon Age here.) And the sci-fi games Mass Effect and Mass Effect 2 surprised me with what might be the best Battlestar Galactica story never told.
I kicked around with The Orange Box, and Magic The Gathering. Blade Kitten took up a fair share of my time too.
I'm looking forward to a year of video game sequels in 2011: F.E.A.R. 2, Dead Space 2, Dragon Age 2 and Mass Effect 3.
Television
I don't generally watch TV. Rave all you like about the latest fluff. If it's any good, I'll pick it up on Netflix. I Netflixed all episodes of The Mighty Boosh, and made it partway through the first season of Supernatural before I gave up.
And I have way too many interesting things to do to waste my time watching pointless drivel like Jersey Shore or Judge Judy. Ick.
Books
Non-fiction I read in 2010:
Fiction I read in 2010:
Movies
My two favorite films of   2010 were Inception and Black Swan.
TRON: Legacy, RED, The Book of Eli, Predators and Let Me In were great. Legend of the Guardians: The Owls of Ga'Hoole was really good too, and the only film I saw in 3D last year. Disney kicked out a couple winners with Prince of Persia: The Sands of Time and The Sorcerer's Apprentice as standard summer blockbusters.
Kick Ass, Iron Man 2, and Salt were marginal. Robin Hood, Faster, The Expendables and The A-Team were just what I expected – filler to kill time between good movies.   Harry Potter and the Fill-In-The-Blank was the same movie I've already seen six times. The Losers was awful, and Resident Evil: Afterlife was the biggest disappointment of the year.
I regret not seeing Machete or Despicable Me, but I refuse to watch The Social Network. Ever, ever, never. Not even for a triple-date with Milla Jovovich, Megan Fox and Flo the Progressive Insurance Girl.
New Year's Resolution: 2011 The Year of Simplification
This year, I resolve to simplify my life. Increase efficiency. Reduce clutter. Mind you, this might mean physical clutter, or possibly emotional or spiritual clutter. Since all my New Year's Resolutions are vague platitudes designed to be met whether I meet them or not (via a little philosophical wordplay), we'll see which interpretation works best at the end of 2011.
I'll probably reduce the amount of things I have stored in my house, especially media (DVDs, CDs, Books, Software, etc) Unless I'm sure I'm going to use them. Sometimes I wonder if I really am keeping things on a shelf because of their usefulness, or because of what they represent. Case in point: I have the entire CD collection of The Eagles on my shelf. Now I haven't listened to The Eagles in years, probably not even ten years. Should I get rid of them? But I might listen to them someday! Agh! Time to simplify/effecientify/declutterify my life.
Did I Miss Anything?
The President blah blah blah… The Economy blah blah blah… If you want to read about all that crap, go someplace else. But if you have something culturific to add, drop it in the comments.
Yours Darkly, Conrad Zero