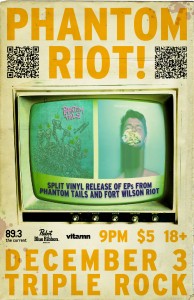 OK, too much coolness in one place to be ignored. Avoid this at your peril.
This info all taken from their official press release:
The Bands
Phantom Tails – City Pages Best New Band of 2011, Phantom Tails formed in early 2009 as Orion Treon, Logan Kerkhof, Sergio Hernandez and Dave Dorman naturally came together out of their previous projects. They wield analog synthesizers, fuzz bass, and surf guitar while brandishing electronic drum beats sampled from vintage 808 machines, and sonar whale recordings.
Phantom Tails on Bandcamp
Phantom Tails on Myspace
Phantom Tails on Twitter
Fort Wilson Riot – the Minneapolis- based duo of Amy Hager and Jacob Mullis have no shortness of ambition, having put out two EPs and two full-length records in five years. Amy\"™s soprano floats over Jacob\"™s growl and yelp, but there is nothing easily classifiable about the Fort Wilson Riot sound. From the crashing guitars and keys, to the blasting uplift of trumpet and harmonica lines to the dancing thump of electronic drums, Fort Wilson Riot are an energy that grabs hold and takes you on a journey.

fortwilsonriot.com
Fort Wilson Riot on Twitter
Fort Wilson Riot on Facebook
The New EPs
The Armageddon Experience – Phantom Tails are releasing their followup to Songs of the Hunchback Whale called The Armageddon Experience. This new EP contains five new songs:
Flotsam & Jetsam
Dressed Wounds
Onward & Awkward
Young Rapture
Glacial Drumlins
These songs don\"™t stray far from the gritty mix of heavy drum samples, spacey keyboards, and unexpectedly catchy hooks featured on their 2010 debut, Songs of the Hunchback Whale, but go further to establish their \"˜deep space doom funk\"™ sound. The new songs draw from apocalyptic landscapes and natural disasters as depicted in   film and art and then mixed with rhythmically dynamic negative space and Latin polyrhythms. Recorded and mixed by Ross Nueske and mastered by Greg Reierson of Rare Form Mastering.
Generation Complex – Fort Wilson Riot's new EP, Generation Complex is the band's fourth record. Here's the track list:
For All The Little Things
The River Song
The Appendix Song
Generation Complex Pt. 1 (Diamonds In Your Eyes)
Generation Complex Pt. 2 (A Night Alone)
Song for Sympathy
Live versions of For All The Little Things and the Generation Complex songs were released previously as part of Fort Wilson Riot's Daytrotter session, and all the tunes have been developed and honed through two years of touring. Generation Complex was recorded in borrowed houses and friends' basements, including Phantom Tails' home and was mastered by Rob Schlette.
One Vinyl To Pull Them Both Together
Take the two new EPs from these two great bands and put them back-to-back on vinyl, and you get one awesome double-EP. Phantom Tails The Armageddon Experience on one side, and Fort Wilson Riot's Generation Complex on the other. This natural pairing offers up two sides of the Twin Cities' best core-shaking, hard-dancing, guitars-and-electronic-drums-driven rock n' roll in one incredible package.
The "Phantom Riot" Event (and how to get Free Beer!)
The split vinyl will be released at 'Phantom Riot', a double-headliner all-out party at the Triple Rock Social Club on Saturday, December 3rd, 2011. The first 24 fans to buy the vinyl at the show get a free Pabst Blue Ribbon!
WHERE: Triple Rock Social Club
WHEN: 9PM, Saturday, December 3, 2011
HOW MUCH: $5, 21+
Phantom Riot is sponsored by Pabst Blue Ribbon and 89.3 The Current.
The Second Chance
If you can't make Triple Rock on Dec 3rd, you can still catch the magic if you're brave enough to jump the border:
Dec 5 @ High Noon Saloon – Madison, WI
Dec 6 @ Borg Ward – Milwaukee, WI
Yours Darkly, Conrad Zero