There's two distinct advantages to waiting a few years after a game's release before you pick it up:
The price will be low
The system requirements will be laughable. (Unless you never upgrade your computer)
Case in point is  Bioware's Jade Empire released in 2005. Fate laid a copy of Jade Empire in my path for a measly two dollars (plus tax)   Hey, I'm only human right? Some would argue that statement, especially since I put in 29 Hours and 31 minutes over a 4-day marathon of gameplay and finished the game. Somehow I also managed to work my full-time job. There was time in there for bathroom breaks and caffeine power-ups, but no sleeping that I remember.
Those who played Neverwinter Nights will recognize the game engine and controls, although much has been simplified and streamlined for your pleasure. Combat is reduced to three options: Attack, Block, and Power Attack. These function in a Rock-Paper-Scissors format:
Block avoids Attack
Attack cancels Power Attack
Power Attack beats Block
There's also Chi, a spiritual ability which can be used for healing and applied to some attacks to make them more powerful. You also have Focus, which slows down time and allows you to move faster than your enemies. Focus and Chi aren't unlimited, and should be used sparingly during combat.
The Good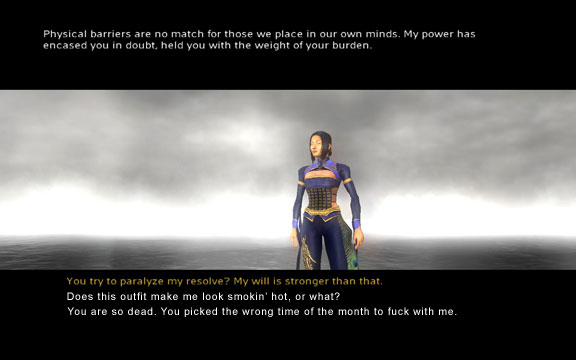 The real beauty of this game lies in its simplicity. For example, there's very little inventory to manage.  No armor. No potions. No weapons. You have a list of fighting styles that you've learned. If you learn a dual-sword technique, you have dual swords. No encumbrance, no shuffling equipment onto and off from pack mules. No running into town to sell off a bunch of stuff to make room for more stuff. You have some magic gems that augment your abilities, and some 'plot items' which are simply keys to finishing certain tasks, but there's nothing to be replenished or reloaded except your Mind, Body and Spirit.
Despite some yawnable cliches (see below) the story was top notch. Definitely not a writer's strike going on when this game was made. Interesting, funny and lovable characters, who had some believable interactions and entertaining conversations. Throughout the game I could turn to  Henpecked Hau for a lengthy and entertaining conversation.  A turning point in the story comes when you finally confront  the Emperor himself – what happens is something you will *never* see coming.
The Role Playing was the best I've seen in a game.  Lots of discussions, and  dialog options, and choices of how to specifically phrase your replies. For example, you might get the following four different ways to say "Yes":
Yes, your most worshipful Emperorness.
Yes.
For Gods sakes, Yes! Now quit asking me stupid questions!
[Charm] Oh yeah you big stallion!
This much dialog might be a turn-off for those who just want things to Line Up And Die, but I thought it was fun. It really let me get into my character's motivations and let me mold my character into what I wanted. More specifically a Cold-Blooded-Yet-Smoking-Hot-Asian-Female-Assassin. Duh.
The game world is "based on" China. The alternate language that occurs in the game is called Tho Fan, created specifically for the game by Canadian linguist Wolf Wikeley.
If it looks like China and it sounds like China… Fine, I'll say it, the game takes place in China. Regardless, it is steeped in Eastern Philosophy, which  gives it some great quotes. Here are some of the more memorable ones:
The Wheel of Life must turn!
Ask not where the path leads. Instead ask why the path is there.
If we aren't drinking we should be fighting.
The Bad
I had to turn  the music  down. Yeah, it fits the mood and all, but I need to be able to hear if a 20-foot tall stone golem is trying to sneak up on me.
The plot was good despite the cliche's, but they were there. Ever play a game where you die and have to fight your way out of the underworld?  Yeah, me too. Ever  played a game where you are forced to fight a copy of your own character? Yeah, it's probably the first module every D&D GameMaster thinks up. Ever hear the plot, 'Local peasant rises up to defeat the evil draconian overlord?' You can check, but I think that might have been done already.
The game engine had a couple minor quirks. I got used to the limitations of the camera quickly. There is a very limited range of up/down motion with the camera, and no way to zoom the camera in or out. That said, the camera was positioned 'just right' for most of the game. Mostly. I did run into several places where the camera got stuck pointing straight down about a foot off the ground. Not very useful. I had to watch the map in the corner of the screen and move to a section with some stairs, and that would jar the camera back to the correct position.
Jade Empire takes the "I" out of AI. Even on 'Master' and 'Jade Master' difficulty settings, the bad guys didn't seem to have  any attacking style. They seem to perform a randomized combination of Block/Attack/Power Attack. Enemies you aren't directly targeting don't go out of their way to hit you, like they want to wait their turn for your full attention or something.
The Upshot
Jade Empire is a fun console-ported-to-PC game, with an interesting blend of Hack-N-Slash mixed with Role Playing, all steeped in an Alternate Eastern Mythology. Simplified combat and no inventory put the focus back on gameplay where it belongs.
The Twitter Review
Just completed *Jade Empire* 29hrs 31min total, I kicked that game's ass in 4 days! What an awesome game! It was like being in a movie!
Yours Darkly, Conrad Zero